The Executive Woman
Over the past decade there has been giant steps towards equality with the business world for women, however it seems that there may still be some way to go. This specifically seems the case given that companies are still subject to female wages that are, on average, lower than their male counterparts by 15% (The Guardian2013).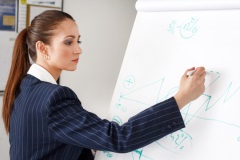 And what's more with males outnumbering females with an 88% proportion to 22% (The Telegraph 2015) within boardroom settings it seems that the very top of such corporations remain equally as imbalanced.
With this in mind it seems that for the Executive Woman, who is determined and focused upon her career, the typical business setting isn't doing her justice.
If you find yourself in such shoes you may just want to consider going it alone with the ideal franchise in order to reach your full, professional potential.
Here we provide you with some examples of executive franchises that may be perfect for you:
Personal Investment Required: £5,000
Overall Start-Up Cost: £15,950
No Letting Go is the UK's largest and longest established franchised provider of property inventory management services. They are looking for the very best people from all backgrounds to open up in a new territory and provide their services to the local market as a franchise owner.

This franchise provides excellent support. They will take you through the process of launching your Lettings Inventory Services Business, working with you to gain new business locally as well providing you with work through their centrally gained contracts.
Territories have excellent potential and their existing franchisee businesses have been growing rapidly.

Personal Investment Required: £15,000
Overall Start-Up Cost: £25,000
The Business Partnership may be considered as one of the most exciting franchise packages out there at the moment. This business could see you becoming a business sales broker, benefiting from over 30 years' worth of experience as well as a proven business model.
By becoming a franchise owner you will be rewarded with owning your own Business Brokerage, with flexible hours and the potential to earn an income exceeding £100,000 per annum!
Personal Investment Required: £4,995

The Brokerplan Commercial Finance Business is offering a range of entry options to suit your circumstances and business objectives including full time or part-time working. They are actively expanding the Brokerplan Network throughout the UK.
This franchise offers a unique and compelling business opportunity for you to establish and develop your own business presence in this lucrative and growing market as a Commercial Finance Professional.
The Brokerplan programme is simple, straightforward and designed to appeal to a broad range of business clients. Potential business opportunities are almost limitless with an income potential £30k (part-time) to £100k+ (platinum/business partner).


Personal Investment Required: £5,000
Overall Start-Up Cost: £5,900
The Payrolls Direct UK Franchise is a Payroll Management Business that is dedicated to offering a payroll management service to any business, whether it's small or large. Payrolls Direct UK Franchise owners do not spend any time on number crunching and creating payslips. All this work is done by HQ.
Being a franchise owner in Payrolls Direct is both challenging and rewarding. Ideally you must be able to communicate well with people, be presentable, and be able to work without supervision.
As a Payrolls Direct UK Franchise owner you will only require one full day of training, where you will be taught how to get businesses to sign up to Payrolls Direct. This training is done in Leicester but can be done remotely if you prefer. Knowledge of payroll is not necessary as Payrolls Direct do all the calculations for you.
Personal Investment Required: £8,000
Overall Start-Up Cost: £16,000
Zeb PA is an Outsourcing Franchise providing telephone answering and other administrative support functions for small businesses. Their business model limits start up costs and provides flexibility where the franchise owner starts off by working from home before progressing to setting up an office and employing staff.
The aim for this business is not for the franchise owner to carry out the work but to employ a team of PA's to do so. You will be guided through setting up your own business and Zeb PA will help you gain new clients and referring you business from national accounts.
With the necessary skill set, and following the step-by-step growth plan, a franchise owner can achieve a high return on their investment in an expanding and exciting market.

These are only some of the franchise opportunities available. Why not browse our executive franchises to see if you can find the right franchise for you. If you know what you are looking for why not use our search facility.
Executive franchises you might be interested in..