Writing A Business Plan
Women within the franchise market are seeing a significant increase in their numbers year on year. Today, 18% of SMEs (Small and Medium Enterprises) are female led. Whilst still drastically lower in numbers than their male counterparts, this is actually an increase of 1% from 2013: demonstrating the steady rise in female entrepreneurs.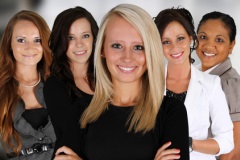 A financial investment is required when becoming a franchise owner. Although a franchisor will provide you with facts and figures from existing franchisees you will require a detailed business plan to show how you intend to make your own business a success.
Here we set out what will need to be included within your plan when either applying for financial investment from a bank, or to attract other partners:
1. Write with the audience in mind
When writing your business plan you must ensure that you continually keep the audience in mind. Key questions to ask yourself before even typing the first words are:
What is the plan trying to achieve? (E.g. funding from a bank, the communication of the business' future or to attract other partners).
What will the audience expect from your business plan? (E.g. investors will expect a detailed breakdown on return on investment and how this is to be achieved).
2. Know the format

Business plans follow what is a very strict format. The sections that should be included are:

Overview of the Company
Description and definition of the Product or Service
An overview of the market
Competition analysis
Introduction to the management team
Marketing plan and overview of current activities
Operations and Financials
3. Undertake market research… thoroughly
Knowing the market is essential and market research should be considered as a vital task for any business, particularly one that is just starting up or looking for finance from a bank or other creditor.
As an example, a locally based restaurant may consider the local population, the demographics of the population (such as average salary, number of children and ethnic origin) and whether the local area is flourishing. This market research would then be completed with the analysis of the competitive environment.
4. Ensure that your sums are correct
By far the most important section of your business plan is your financials. When seeking investment these figures will undergo some pretty tough scrutiny and so it may pay to seek professional help in this area such as from an accountant.
5. Include an executive summary
To finish your business plan you must remember to include an executive summary. This very brief introduction at the beginning of your document summarises the plan, generally speaking this should be no longer than around 300 words.
6. Use your plan and implement the points
Your business plan should not just serve a purpose for one meeting and then be forgotten about. Even if it was initially created to seek investment your business plan should help guide your short, medium and long term choices and be continually updated to include detailed instructions as to what, exactly, is required to grow.
At Female Franchise you will find one of the widest ranges of business opportunities in the UK. Use our search facility to find the perfect franchise for you or browse our resources section to learn more about becoming a franchise owner!