The Care Sector is evolving rapidly
The care industry is one of the most diverse there is, as well as one of the most secure given the aging population and the national approach to health care for all. There is also the requirement for quality child care which has never been greater. With working couples or single parents needing to know that their children are being cared for in the right environment.
For the business person looking into this market there then lies a seemingly never ending range of possibilities; from care homes for the elderly to childcare for children. So the question then is how financially viable such a business is, and what forms of franchise packages are out there that may suit both your skillset as well as your budget.
The advantages of working within the Care Sector:

Regardless of the specific care business, many find that working within this sector offers universal advantages, such as it being personally rewarding and providing a real sense of doing something that is important for others.

There are a variety of franchise opportunities with Care Homes for the elderly generally turning over hundreds of thousands of pounds, whereas other smaller services (such as mobile care) can start from lower earnings which build more gradually.
In respect of childcare franchises you could be considering a Master Franchise or a smaller part-time franchise caring for children and helping with their development.
Care Franchise Packages: What's out there?
The range of care franchise packages that you will find amongst our categories is both wide and varied. Here we take a look at a few of our most popular to give you a real life overview of the choices that you have before you.
Personal Investment Required: £32,950 (approx)
Total Start-up Cost: £90,000 (approx)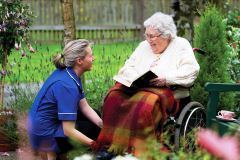 The Caremark franchise package is an ideal example of a successful Care Home franchise. Found in over 80 locations throughout the UK today they bring 19 years' worth of experience to the market with franchise owners specifically benefitting from comprehensive access to a robust network with unparalleled support, as well as in-depth training.
As a franchise owner you will recruit, train and manage highly qualified carers to provide excellent home care and support to individuals within their own home.
This franchise is going from strength to strength. Franchise owners saw an increase in revenue of 20% in 2014 with 2015 looking to be another record breaking year with a forecast network turnover of over £50 million.
Personal Investment Required: £28,000 (approx)

Total Start-up Cost: £32,000 (approx)

As a SureCare Home Care franchise owner you would establish and manage your business in a protected operational territory. You will be responsible for the day-to-day management of the business, ensuring business growth whilst maintaining the high quality of the service.
This is a perfect franchise opportunity for anyone looking to invest in a business that offers excellent financial rewards and a wealth of personal satisfaction. SureCare will give full guidance to all their franchise owners during a comprehensive introduction programme, as well as providing proven systems to ensure a smooth start and regular updates as developments occur.
Personal Investment Required: £2,000
Total Start-up Cost: £3,500

The Kiddleydivey franchise is a unique business that gives you the opportunity to provide therapeutic music sessions for children as well as the elderly.
Through innovative musical lessons children improve in mobility whilst socialising and elderly members benefit from mental stimulation, increased memory, improved mobility and an improved quality of life.
This franchise opportunity is available as a separate package for children or elderly care or you have the option to buy the complete package for both.
This is a franchise with high earning potential with low start-up costs. No previous experience required – full training given in all aspects of the business.
Personal Investment Required: £5,000

Total Start-up Cost: £15,000

Sherpa Kids is the largest global Childcare Management Franchise operating in the world. There is currently an opportunity to buy the Master Franchise, this will give you the franchise rights throughout England, Wales or Scotland!

There is also the opportunity to purchase a Unit Licence.
Sherpa Kids are looking for entrepreneurs that can challenge, manage and have the desire to drive several school sites (known as a cluster) and engage closely in these communities.

As a franchise owner you will manage your staff, develop the relationship with the school community and grow the business as the demand of your services increases with enrolments. Sherpa Kids see the business as a management franchise that provides services to the childcare industry.
There are a variety of care franchises to choose from, why not take a look at our Care, Child Development, and Childrens Franchises to find the right franchise for you. Alternatively why not use our Search facility.