Kiddy Cook Franchise for Sale in West London
West London
29th August 2017
Kiddy Cook Franchise for Sale in West London
An excellent opportunity has arisen to purchase an established Kiddy Cook Franchise in West London.

Due to a change in personal circumstances, Bernadette, is looking to sell her successful Kiddy Cook franchise in West London. That means a successful business model and a guaranteed income right from the start!

Kiddy Cook is the first and most successful children's cooking activity franchise in the UK. Awarded 'Best Cookery Class' by UK Enterprise Awards, they continue their mission to inspire and educate children and young people when it comes to making healthy food fun!

With a growing franchise network operating in the UK, the Kiddy Cook franchise gives ambitious individuals that are committed to success, the opportunity to run a financially rewarding business.
Kiddy Cook have helped thousands of school children get cooking and the demand for their workshops continues.
Kiddy Cook offer innovative, cross curricular cookery classes, after school clubs, parties and workshops for Primary School children, teaching them the importance of healthy eating as part of a healthy lifestyle.

During the last 12 months they've increased their portfolio of school workshops to include a 10 week 'Food Foundation' course to fit in with the new curriculum, and their NEW Kitchen Science Club has proved very successful at after school clubs. Kiddy Cook continue to run their fantastic kids cookery theatre at Foodies Festivals across the UK, and this year they've been working with Feel Good Family - a team of specialists in the creative application of evidence based behavioural and consumer science in the fields of food and activity - all of which you could be a part of.
Franchise Support
Setting up your own business can be a daunting prospect for many. It's one of the reasons that the tried and tested model of a successful franchise is so appealing to so many.

It's not just the fact that the business works, but it's also because with the right franchise you receive a wealth of support for the whole time you run your franchise.

Franchisees get a comprehensive training period to include the opportunity to observe local classes, an operations manual that documents the steps to success in all areas of the business, a bank of 100+ recipes, and help with promotion. Franchisees get the business blueprint, but you can also be fairly creative. For instance, Kiddy Cook's NW franchisee has links with the National Trust and runs successful pick and cook workshops during the growing season. You also get the security of knowing that everything has been tried and tested. Whether it's marketing and PR, helping you practice a sales-pitch, discussing new and creative ideas for your business, or simply confirming which size egg works best in a recipe, Kiddy Cook franchisees are happy to help.
Q&A session with Bernadette Ryder, Owner of Kiddy Cook West London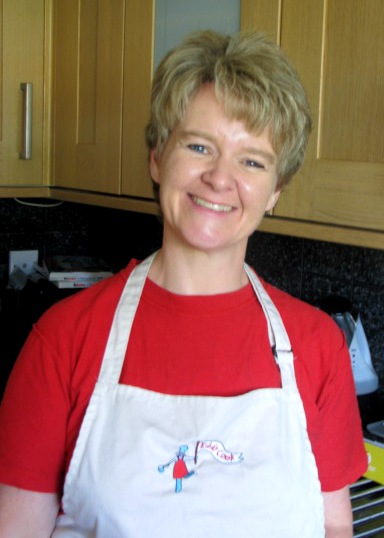 What is a typical day?
My typical day would be to check emails; research recipes; plan my lessons including printing recipes; shop for ingredients; prepare equipment to bring to lessons and teach my lessons! I work in a number of schools during the week with approximately 70 different children. My other income streams include parties, private workshops, festivals, nurseries and Cookie Tot classes. Evenings are spent with my family and I generally work term-time only.
Have you achieved a work/family balance?
Yes, I have established my business so that I can work around my family commitments, I work term time only as most of my work is within schools. I work some weekends to run parties but I can pick and choose the dates/days I work.
What training and support do you receive?
Kiddy Cook have a head office and Nikki (Director) is always available to speak with; we also have a great support network with the other franchisees and meet up on a regular basis for training purposes. We have an internal communication system and a large database of resources to access. Support is in place to enable you to confidently hit the ground running.
Why are you selling the business?
I am selling the business purely due to a change in personal family circumstances. I have thoroughly enjoyed my time with the business and would really like to pass it onto someone who will be committed and rather than starting a business from scratch, you can move this business onto another level.
Be the Next Kiddy Cook Success Story
Franchise owners come from a wide variety of backgrounds. However, there are certain skills, personal attributes and experience that Kiddy Cook look for in ALL their franchisees. These are:
integrity
a love of working with children
enthusiasm and ambition to grow a successful business
the belief that food and cooking is a skill for life
With full training, a comprehensive start-up kit and ongoing support, this really could be the opportunity you have been looking for.
To enquire about this resale click on the button below
Enquire About This Resale
Other

Resale Opportunities
What

Our Franchisees Say

I would recommend it to anyone who is serious about making a success of their own business but is in need of a helping hand to get going.Charlotte Carr, Kiddy Cook Leighton Buzzard

At the end of my first financial year I turned over £16,000. At the end of my fourth financial year (April 2014) I turned over approximately £50,000, which I am thrilled with.Frances Webster, Kiddy Cook Norwich

I am very happy that I took on a Kiddy Cook franchise - it fits in with my family and work balance lifestyle.Kate Faulkner, Kiddy Cook North Staffordshire
Why

Choose Us

We are the only cooking franchise to offer an evidence based programme of school cookery workshops

Successful business model with the potential to build a financially rewarding business from varied income streams

We are a structured franchise with the flexibility for franchisees to develop their business in a way that works for them.
Related

Franchise Categories
Related

Franchise Types