Trophy Franchise
Pet Food and Product Business
The Trophy Franchise is a successful and established Pet Food and Product Business. Established since the early 1990's, Trophy was the first mobile pet food franchise in the UK.
Since its conception, Trophy has been the market leader in its field and now has a substantial team of passionate pet people/franchisees delivering all over the UK. A nationwide company with the knowledge, experience and know-how to make each of its franchisees successful.
Convenience, Quality, British is what defines Trophy Pet Foods. From their quality, British made pet foods, free home delivery service, free samples, competitive pricing, free nutritional advice from the experts, to friendly customer service. All combine to provide a winning combination.
The Trophy Franchise Opportunity:
Trophy realise just how important and what a big decision it is to enter into a new venture and start a new business. But this is where franchising comes in.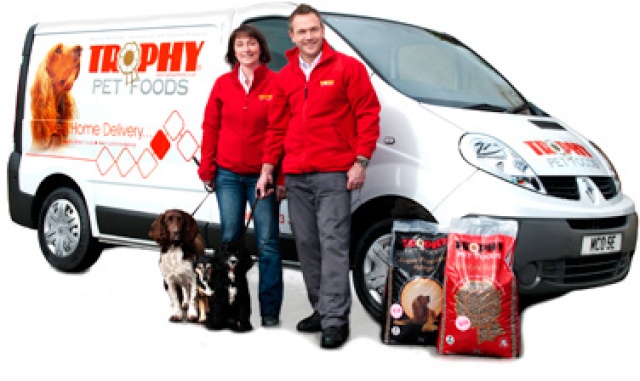 Trophy have the correct skills, experience and know-how necessary to make your new Trophy Pet Food and Product Business succeed.
They are there to train, support and guide you along the way. The tried and tested formula combined with their superb launch programme and support package are designed to ensure every new franchisee can grow and develop an exceptional local pet food business. There is immediately the strength of a large organisation behind you – a proven system.
The benefits of becoming a Trophy Franchisee:
Exclusive area
Sustainable high margins
Flexible working hours, working from home to suit both you and your customers
Unique British brand, manufactured at their own plant
Low food miles, sustainable sourced British ingredients
A proven system
Huge job satisfaction
Trophy Pet Foods is a family run business, has a large team of successful, established franchisees and provides the security of a strong brand that gives you the benefit of running your own business to suit your time and circumstances.
A Trophy Franchisee:
As a Trophy Franchisee you will provide customers with various pet foods and products. Trophy pet foods are made from only the best available ingredients and to the highest of standards. In a thriving pet food market it is vital that Trophy's pet foods, products and services are of the highest calibre, whilst remaining competitively priced.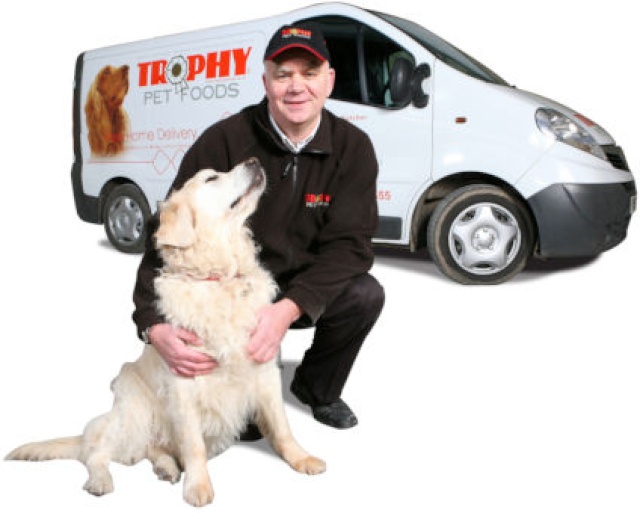 Trophy manufacture their own foods at their own pet food plant which allows franchisees to have confidence in what is a quality British premium product that will ensure customer satisfaction and retention.
Working with their qualified pet nutritionist Trophy's foods have modern, advanced formulas.
The Trophy range is extensive and includes complete nutritionally balanced foods for all pets. The food allows franchisees to offer customers a range of pricing structures, personal choice, specialist foods and value for money.
From puppies to mature dogs, active to weight loss, gluten free, hypo-allergenic, working dog diets, skin and coat management, allergies, food intolerances to digestive issues – Trophy provides food that will suit.
They also provide:
complete care cat foods
a wild bird seed range
chicken foods (as part of their expanding countryside range)
a small mammal range
A good image is vital to any new and existing business. Trophy's corporate image is second to none and each franchisee has their van fully sign written, making sure that everyone knows what they have to offer. This professional image is carried through to the uniform, name badge, promotional literature, leaflets, and advertising, samples, food bags, starter packs and show equipment.
Nutritional Qualification
An independent, professional qualification for all new and existing Trophy Franchisees - an independently certified CPD in pet nutrition and UK pet food legislation program.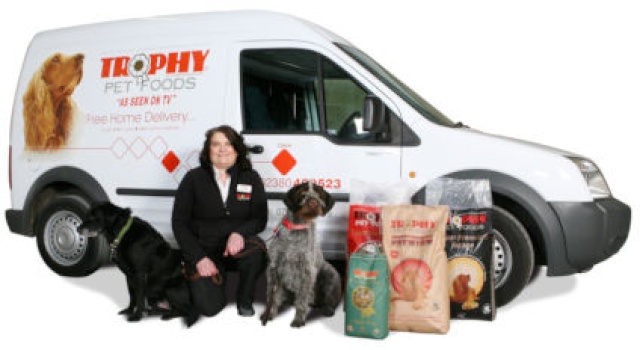 This professional CPD qualification will allow Trophy Franchisees to offer a professional, dedicated service to their customers, built on trust, confidence in the advice given, and it will add value to the Trophy services, ensuring customers receive the best nutritional advice.
This nutritional qualification enhances the in house training provided and will allow franchisees to offer a professional, qualified and dedicated service to their customers.
This distant learning course will ensure that franchisees are fully trained in pet nutrition, providing a Professional Development Qualification.
Training and Support
The first 4 days training (spread over a week here at offices in Oxfordshire) kick starts the business. Followed by 4 days of in field training in your area with your Franchise Support Manager (FSM). This is then followed by a 1 day work shop, after approximately 3 months of trading, to review and discuss your new Pet Food and Product Business, consolidate and plan for the future. In addition further training will include:
A 12 month social media masterclass and in house managed social media for 6 months
Your Nutritional Qualification, via a distant learning course
Regional workshops to network with your fellow Trophy Franchisees
Franchisees have full access to their own personal trainer, who carry out all support, development and growth plans. The FSM is responsible for the infield launch programme and will also guide the new franchisee through their first few years with Trophy.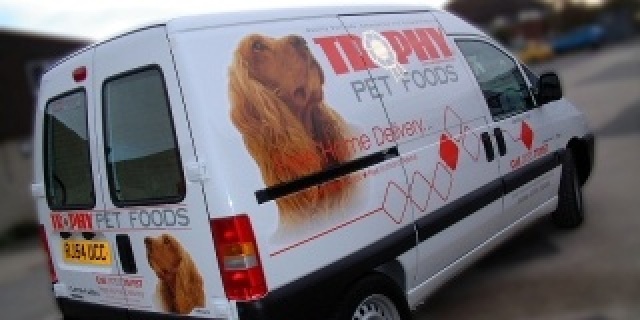 You are never alone when you form a partnership with Trophy Pet Foods, starting with a smooth and effective launch programme.
They are also with you every step of the way, after all your success is their success! One of the many benefits of running your own business in conjunction with Trophy is the level of support they can provide for you.
Ongoing support is crucial and Trophy Franchisees benefit from excellent communications, product development, free promotional literature, local & national digital advertising, help with growing the customer base, regional meetings, a franchisee council, motivational support and, of course, your own personal trainer. Plus seasonal newsletters for all your customers, brand building programmes, the Trophy website and social media. Plus the famous Annual Conference, a customer referral scheme and show /event support.
The Franchise Package:
Exclusive territory, large enough to grow and expand
Ten day comprehensive training programme
Effective launch programme & PR campaign
Starter packs of stationery and tools
Accounts software
Trophy van livery and display module
Local advertising & marketing
Initial starter stock pack
Corporate identity
Nutritional qualification
Dog weighing scales & trade scales
Comprehensive operating manuals
Video visual aids, social media commercials & tablet
Social media masterclass and managed social media
Full back up and ongoing support
Franchise Support Manager
Trophy show equipment
Brand building
Trophy CRM system
Proven System
The Trophy Pet Foods Franchise investment fee is £13,995 plus VAT and includes all of the above; there are no hidden extras. The franchisee will also need to fund a medium size van and have working capital.

With the immediate strength of a large organisation behind you, the proven support and launch system and the support of current franchisees you will never be without the knowledge you will need.
Trophy are market leaders in pet food home delivery and the original and leading mobile pet food franchise in the UK. Trophy Pet Foods are full members of the British Franchise Association and they are accredited by The Ethical Company Organisation.
Trophy are proud to manufacture their food at their own plant in Northamptonshire and are passionate about their vision - they have always believed that quality nutrition is key. They know that a local Trophy Nutritional Adviser / Franchisee is the best person to give friendly, expert nutritional advice.
Find out more about the Trophy Franchise, the successful Pet Food and Product Business. Click the button below now!
What

Our Franchisees Say

Delighted with my first year, we ended year one ahead of target.Pamela Conroy

The best thing I have every done – should have done it years ago!John Thurley

Trophy Pet Foods stood out as our number one option. We were very impressed with the pedigree within Trophy and their past and current performance. Whilst it was clear that the franchisors' business was being run as a serious concern, it was also as clear that ethos of the owners created an environment for new businesses to achieve their own goals. Now 8 months in, we have a business consistently generating a clear operating profit. Hard work is a message new franchisees will continuously hear from head office. We very early made the decision to make Trophy our main source of family income, so hard work, perseverance, determination, were needed in bucket fulls, along with a truly supportive family. The last key ingredient is adherence to Trophy's 'system'. This can be summed up as 25 years of refined best practice that you can rely on to help you achieve your results. Follow the system, it works...Matt Snell – Trophy Swindon and North Wiltshire
Why

Choose Us

British Pet Foods, supporting British agriculture and farmers

Low cost entry, big rewards, great job satisfaction

Individual support and back up, with Trophy you are not a number
Related

Franchise Categories
Related

Franchise Types