Renovation Management Franchise
Build your own £1M Renovations Management Business with Refresh Renovations
The Refresh Renovations Property Franchise provides you with a unique opportunity to join the global market leader in the residential renovations sector, which represents a £26bn a year opportunity in the UK alone.
Refresh Renovations has been established for over a decade, with over 80 franchisees operating in the UK, USA, New Zealand and Australia. The enormous scale of this market means that, with the right plan and resources in place, the only limit to your earning potential is your ambition.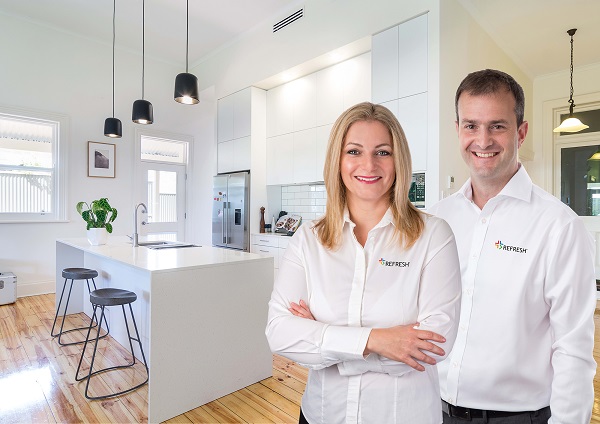 The Refresh Renovation Management Franchise:
The current renovation model is broken, 40% of projects result in a dispute and the average waste for renovation projects is 30%. This presents an opportunity to grow a business in this market which presents an incredible commercial opportunity to operators, while delivering projects on time and on budget to satisfied customers.
Refresh Renovations is a management franchise model, meaning that they are not looking for franchise partners with building or renovation experience.
All the benefits of running your own business, with a vast amount of the risk removed!
Everything is in place for you to start your Renovation Management Franchise Business straight away and continue to succeed in the future. Meaning you can enjoy all of the benefits of running your own business, with the support and assistance of the master franchise meaning you can focus on your businesses success, and take advantage of the work/life balance benefits that brings.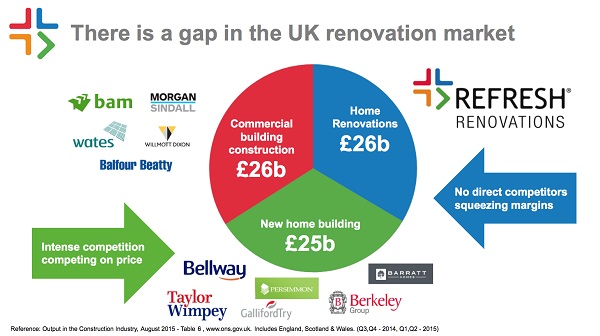 Refresh Renovations Are Changing the Way the World Renovates
And that's no small thing. Refresh Renovations have looked at the renovation industry and thought that if it was a house, you'd demolish it and start again. So they did. They built a system that puts the customer at the centre, turns amateur hour into a professional industry and gives the right franchise owners the chance to build amazing businesses from the ground up.
How much can you earn?
On average franchisees turnover £400k a year, with the most successful franchise owners building £1M+ a year businesswith their guidance and support.
Low Start Up & Running Costs
With Franchises starting from just £45,000 and minimal start up costs (no premise, equipment or material investment required), Refresh represents an incredible opportunity for the right applicants.
Their extremely competitive and flexible royalty structure means that when you are trading, more of your business's money stays with you.
Could run a Renovations Management Franchise Business?
Succcessful franchisees are not builders! Refresh is a management franchise, meaning that commercial acumen and a drive to deliver an exceptional customer experience are the key factors that set their most successful franchise owners apart.
Ideally you will also be self driven and accountable, possess a growth mindset with a focus on investment in marketing and your team to allow your business to thrive and enjoy working collaboratively as part of a team.
To be considered to be awarded a Refresh Renovations Franchise, you will:
Be sales and marketing focused
Have strong managerial skills and business acumen
Have the ability to manage outcomes: plan well, hire well, follow proven guidelines and deploy resources effectively
Be able to make a long term commitment to business success
Be able to fund the initial purchase investment and then any working capital requirements of the initial phase of business growth
Be reputable, ethical and customer service oriented
Find out how you can build your own £1M Renovation Management Franchise Business.
Click Below now!