Hear from the founder and Chief Designer of Jenny Junior Interiors Franchise.
November 2020
This month we hear from the founder and Chief Designer of Jenny Junior Interiors Franchise. Jenny Junior Interiors is a new launch franchise due to the success of the business in Hertfordshire.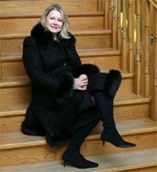 Jenny began her career in the fashion industry in London, where she cultivated her fascination for colour, art and purity of form. To this day, these are the creative traits which underpin Jenny's interior design philosophy and which distinguish her work and the Jenny Junior Interiors style.
In 2000, Jenny elected to launch her own interior design company, having graduated with a Distinction in Interior Design from the Regent Academy of Fine Art. Her design work encompasses both domestic and retail projects, from whole-home design and decoration solutions through to unique, custom made furniture assignments.
Jenny has built the business into one of the leading interior designers in the Home Counties, with an impressive portfolio of clients who have engaged Jenny to breathe new life into their contemporary or traditional homes, by combining her creative flair and fresh ideas with her perceptive understanding of what her clients want.
As part of the growth strategy, Jenny is now offering the right people an exciting opportunity to be their own boss and run their own interior design business, fully supported from day one by the Jenny Junior team.
From the outset, as a Jenny Junior Interiors Business Owner you will be creating, presenting and selling your interior design ideas to your clients. Whether a client has engaged you simply to provide new curtains, blinds or upholstery, or whether they are looking for a whole-room or whole-home design scheme, you are the designer.
You are also the project manager who sources the component products which comprise your design scheme, and who engages local tradespeople to fit and install those products for your client.
Perhaps you hold a degree or diploma in interior design and dream of running your own business, but don't know where to start. Maybe you once worked for an established agency, and now wish to maximise your own potential. It could be you simply want a better work/life balance and the flexibility to work whenever you want to work. Whatever your circumstances, you know the interior design market is growing and your skills will be highly sought after.

Find out more about the Jenny Junior Interior Design Franchise by clicking below now!