Hear from Cook Stars Founder, Cathy Harding.
May 2019
This month we hear from Cathy Harding, Founder of the Cook Stars Franchise. Cook Stars is a multiple award winning Children's Cookery and Party Franchise offering a new and unique concept combining cookery and crafts.
Hear from Cathy as she talks about her time working within the financial sector and why she finally made the break and created her own successful business.
I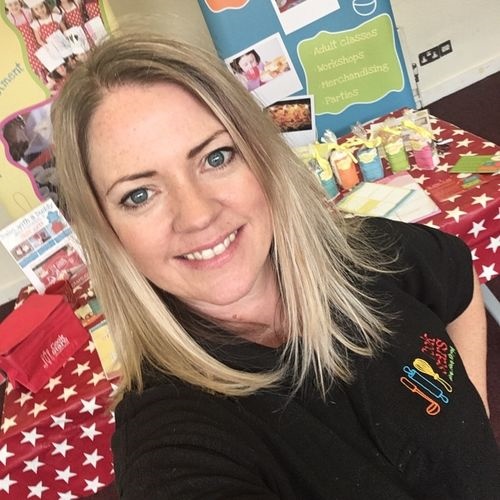 'm Cathy, born and bred in beautiful Wales and now bringing up a family of my own here (I'm not into rugby but I do love leeks).
I have a wonderful supportive husband and 3 amazing babies of the human variety (our eldest son is 14, our daughter is 11 and youngest boy is age 8) and then there is my cherished 4th baby - Cook Stars, age nearly 5.5!

What feels like a long time ago, after finishing my psychology degree, I went travelling for a year. When I got home I kind of fell into financial services in 2000. I say 'fell in' because surely this can only have been an accidental thing and no one deliberately chooses this path?!

I took a temporary job doing something completely enthralling to do with pensions. It was small let down I'll admit after a year of beaches and boozing! I was only doing it to make some money to go off travelling again, but then I sort of got stuck! I live life much more intentionally these days and everything I do, I do because I want to. I guess though that such insight comes with life experience, grey hairs and a more portly stature... but at that time I didn't truly know that there is a choice in these matters!

Over the next few years I had a few different contract roles within the thrilling world of financial services. Through an actuarial firm, I took qualifications to be a financial advisor and a mortgage advisor and had roles working at the office and then at home (when our first born came along). It was as exciting and fun as it sounds...a real laugh a minute. Even writing about this is dull - but you get the picture that it had nothing at all to do with cooking!
A time when life was throwing us a few challenges
So how did I go from living the high life in the glamourous world of finance (phahah!) to starting my own business?! Well, the idea for Cook Stars started in 2012. It was at a time when life was throwing us a few challenges (as it likes to every now and then to keep us on our toes!). My husband had been made redundant which was pretty poor timing because we had just moved house and taken on a pretty whopping mortgage, there was ill health in our family and we had 3 kids under the age of 8. The children are a total gift and I love them with all my heart...but if you are a parent, you know why I listed 3 under the age of 8 as a challenge (even with nothing else thrown into the mix)!

When my youngest was around 18 months, I was a manager working as an employee for a loans company (fun fun). I was approached to take a contracting role working as a manager in a major bank. I had at this point previously been contracting for a few years, and in many ways suited me well - you have a very defined goal and roll your sleeves up and get the job done. I love that! Accomplishing goals and plans and actioning things that can be completed and ticked off a list gives me huge satisfaction! I put my all into everything I do, which has always worked in my favour and so this suited me to some degree. This time though, taking the job was quite a different prospect - with my husband out of work, 3 kids and a new house a lot was resting on my shoulders.
A leap of faith
Contractors are very dispensable so it was a leap of faith (in myself mostly) and a huge risk that it would work out. I did it though to keep us afloat and keep our house. So with fingers and toes crossed I took it.

I started the new job and within about 3 minutes I hated it! I strongly trust my intuition and it felt awful there - turned out I was not wrong! I closely managed a team of over 30 people - I enjoy managing people so that in itself was fine. However without any exaggeration, my role was the job of around 3 people in the 'normal' non-contracting world I would say. One thing I am absolutely not is work shy....but this was different level and ninja organisational skills were required.
I still feel horrible when I think about that job! The role was intense and pressurised, the day was gruelling with unrealistic expectations. There was huge (and very uncomfortable) resentment between employed staff and contractors. On top of this was a strong fear factor thrown into the mix that you could be sacked at any point - it's literally that brutal when you're a contractor and it was a regular occurrence at this place.
A constant battle with myself
I found a way to make it work, but it took it's toll quite heavily mentally and physically. The hardest part was I fundamentally disagreed with their ethic on many levels. I especially disagreed with the way they treated people, and in turn how I was expected to treat people. I was in constant battle with myself to manage the expectations from above (appeasing people to keep my job), but usually this was strongly at odds with how I operate and who I am.
The last woman standing
Without meaning to sound all hippy-dippy, I wasn't able to be true to myself which is actually very stressful. It was like I was a playing some evil bitch character in some screwed up game! Turns out I was the last (wo)man standing of the original management team at the end - the other managers had wisely left or been booted out. This was partly resilience on my part, partly learning how to manage upwards and downwards... but mostly because I had no choice but to stay until my hubby had a job!

Enough time has passed now that I don't care if my old bosses and colleagues see this (and I will certainly never turn back!). I have never been more exhausted (even with newborns I was genuinely less tired), more demoralised or more unhappy. I was working 6 days a week towards the end, barely saw my children and lived in a sort of numb unhappy void. I'm sure I was an absolute joy to live with and a pleasure to be around! All I can say is my husband is made of steel and is one amazing man that's for sure.
It wasn't all doom and gloom and I do always try to find the positives...of which there were 2:
1) They had a very good coffee shop (clutching at straws...?!) which had a lovely lady who was usually serving.... she provided a little respite to my day as I didn't have to be a cow to her...

2) I was so desperately unhappy and at such a low point the only way was up. Weird to list 'desperately unhappy' as a positive, but honestly without having reached this low point I don't think I would have been so open to change. I've always been determined and I knew there would be a way out but I hadn't found it just yet. I think I needed to reach rock bottom to learn the lessons it taught me.
I was so ready to do something drastically different
I could have taken a different job (perhaps sticking pins in my eyes at a freak show which would have been significantly better), but I wanted out of financial services altogether. I was like a square peg in a round hole, and I was so ready to do something drastically different.

So, getting to the point (at last!), I was cooking with my daughter one Sunday (she was just age 5 at the time) she said to me "Mummy, you are good at teaching me to cook, you should teach other children to cook." Excuse how corny this sounds but it's no exaggeration to say that moment was life changing and everything transformed from that point! I KNEW instantly 100% that she was right. There was a not a doubt in mind - I could and would do this AND I was going to do everything I could to make it totally amazing!

To think I could have a role that I would find fun, rewarding, challenging doing something I completely love? Well thank you very much - yes please! Where do I sign? I wholeheartedly accept and would like to start right away!
The Cook Stars Business
I had NO idea whatsoever how much hard work it would be! Starting any business is HARD, then deciding to franchise it is VERY HARD!! There are only 930 franchised businesses in the UK apparently - not many is it? I get why....

Truthfully, I wouldn't recommend doing what I have done. To have built the business to where it is today has been such hard graft - but I'll tell you about that another day. That being said, overall I wouldn't change a thing! I LOVE what we do and am grateful for it every day. I love what we bring to our customers and the pleasure it gives them - it feels very special to be able to do that for people.

The thing I'm most proud of is that I'm in a position that I can offer the chance to other people to do something they love too. That feels pretty awesome to me!

When our 2nd lovely franchisee Helen (Cook Stars Worcester) wrote a review to say that joining Cook Stars had changed her life and that she felt truly blessed...I actually cried - quite a lot!

Since then other franchisees too have said similar comments about the positive impact it had had on them. It's the most amazing feeling to know I have provided an opportunity to help them achieve that. It makes this whole bumpy journey I have told you about VERY worth-while!

In business people always talk about getting firm clarity around your 'why' - why do you do what you do? For me, the tears said it all....that is my 'why' right there.
Find out more about the Cook Stars Franchise.
Click below now!