SureCare, March 2015
March 2015
Women attracted by diverse range of care franchise opportunities
This Month, SureCare explains more about why a growning numbers of women are looking to become their own boss by setting up a care franchise. To find out more about SureCare click here to visit their profile page.
The care sector is evolving rapidly in order to meet the ever increasing needs of today's population and with it the opportunities to run a successful business.
At one end of the spectrum, there is Britain's ageing population which wants to remain as independent as possible for as long as they can, living in the comfort of their own homes rather than going into a nursing home. Then, at the other end of the spectrum, the requirement for quality child care has never been greater, with working couples or single parents needing to know that their children are being cared for in the right environment.
Another key area now being addressed by leading care franchise providers is the growing number of older people affected by dementia. Figures show a sharp rise in the number of people affected by dementia globally. A staggering 44 million people now have the condition and this figure is set to rise to 76 million by 2030 and to 135 million by 2050.

Vikki Donnachie, Franchise Sales Manager for SureCare, said: "The care sector has changed rapidly over the last few years and will continuCompanies like SureCare have to remain relevant and in tune with the needs of clients today e to do so. whether they are the elderly in the later stages of life or young working families trying to juggle work with children and the desire to have a social life. We have developed our franchise offering considerably during the past year and a half and will continue to do so."
Vikki added: "From a franchisee point of view, we are able to offer multiple revenue streams to grow a healthy and profitable franchise and our mix of full and micro franchises has opened up franchising opportunities to a wider audience."
Alzheimer's disease, the most common form of dementia, already affects one in 14 people over the age of 65, according to the Alzheimer's Society, and one in six over the age of 80. There are therefore opportunities for care franchises to provide specialist dementia care and play an important role in helping to tackle the challenges presented by this condition.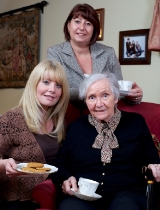 One company which has responded to the changing profile of the care industry has been SureCare, which operates more than 30 franchises across the UK. SureCare offers two types of franchises – a full franchise covering a large territory such as Oxfordshire, Merseyside or East Cheshire, and micro franchises which typically cover a smaller territory (approximately 100,000 population).
In addition to being able to offer regulated (personal care and support, respite care etc.) and non-regulated care services (babysitting, mobile crèche service etc.), SureCare franchises are now able to provide clients with a full range of home services.
Home services include cooking, cleaning, DIY, gardening and many of the other daily essentials that allow people to remain independent in their own homes.
A SureCare full franchise costs £32,000, while a SureCare Local micro franchise costs £8,995.

Angela Devine, owner of the SureCare franchise in Stockport and Tameside, had traditionally focused on offering domiciliary care to the elderly, but her business has now expanded to provide clients with home services.
Angela said: "This might include arranging for some DIY to be done, mowing the lawn, collecting the shopping or, simply, playing a game of scrabble."

Vikki added: "The care sector is changing dramatically and will continue to do so. Companies like SureCare have a responsibility to continually adapt and evolve to ensure we are providing the right services for today's society."