This month we hear from Karen Moore, Founder of Tailor Maid.
April 2018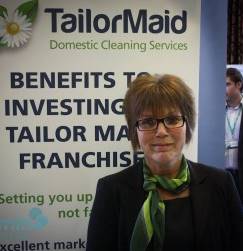 This month we hear from Karen Moore, Founder of Tailor Maid. Karen talks about why she decided to start up her own Domestic Cleaning Business after spending her working life in accountancy.
Karen also talks about her experience of setting up a business, and working around her family life.
Tailor Maid was launched in 2009 and has become a successful company with an enviable reputation for customer service.
Tailor Maid is a home based franchise. It is perfect for mums who are looking to fit work around family commitments and who want to start up their own business being self employed with a great income.
Why did you decide to start your own cleaning business?
I was looking for something new and needed a fresh challenge after spending all my working life in accountancy. The domestic cleaning market appealed to me and I set out to create a luxury eco-friendly and holistic home cleaning service specifically designed for working woman like herself.
How easy was it to start your own business?
It took me 24 four hours to set the company up and my first customer was a friend who was looking for an eco- friendly house clean twice a week. Word of mouth spread quickly and I found within several month's we had our own trained, friendly and efficient staff working full time. We put a lot of emphasis on client care and delivered an excellent quality of service. Feedback was very important.
What did you need to consider when starting up your business?
Use of eco-friendly products which appealed to our customers. Fair employment rights for staff, this meant paying a good wage, statutory holidays and vetting of all staff. Our customers of course were very important and we marketed to busy working woman who needed our services to help them manage their homes.
Did you have any help with a business plan?
No, I set up on my own with some small savings in the bank and the business grew fairly quickly.
Why should you consider becoming a franchisee rather than starting your own cleaning business?
A franchisor has already done the ground work for you, ironed out a lot of the problems you may come across when first starting out on your own and they come with a lot of knowledge and experience of how to make a successful business.
What things should you consider when looking for a franchise?
One, choose a franchise that you will be passionate about and one that you will be prepared to work hard for in order to succeed. The more you put in to the starting up of your business the better it stands a chance of been successful.
Can you run a successful management business and find time to fit around your family?
Working flexible time around your family is so important. You can find this balance because you are self employed and you make the decisions on your flexible working time. An early start for instance before the children wake to check your emails while having your morning coffee.
After the school run it was time to work in the office. Tending to duties that include, staff, clients and office admin and ensuring the smooth running off the business. Picking the children up from school and spending quality time with them was more achievable with flexible hours.
Once they were in bed I would then spend one more hour checking emails and planning for the next working day. I was in my element, working for myself whilst also balancing caring for my family working flexible hours.
Find out more about the Tailor Maid Franchise and how to become their next successful franchisee by clicking below now!