Helen Murray is the archetypal example of a Raring2go! business owner.
July 2017
This month we hear from a former primary school teacher Helen Murray as she talks about why she enjoys running her own Magazine and Website Business and the success she has achieved with the Raring2go! Franchise.
Helen originally from New Zealand, is the archetypal example of a Raring2go! franchisee. With her two children growing up, Helen really wanted to work as well as 'just being a mum'.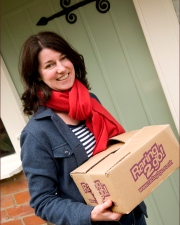 Helen has a son and a daughter, who has a lot of ill health so her family have very special requirements. Helen felt employers would hardly be banging at her door to take her on as she could potentially be often absent when her daughter needed her.

Helen had what she describes as her 'Eureka moment' one day while at the hairdressers. She read an article in a magazine about a mother who published a Raring2go! magazine.
Helen remembers:

"I thought 'I can do this' and it sounded like it could be the right opportunity."
Before making such an important decision though she spent several months researching and questioning the franchisor, and realised it did tick all her boxes – a flexible, fulfilling business opportunity although one which needed commitment, hard work and dedication.
Helen says:
"One of the great things about running a Raring2go! magazine is that I can do it from anywhere. My laptop comes everywhere with me – I take it on holiday and even into hospital – and I can put in the hours as it suits me, but it's really rewarding, very creative and it means I get the social side that I don't get as a stay at home mum. I actually get to talk to adults on a daily basis!"
Describing running the business as "incredibly hard work", Helen says she gets a buzz each time she sends off a magazine to the printers and can't wait until she gets it back to see how great it looks in print.
Helen adds:
"It's certainly a five day a week job, especially when there's a deadline looming, but normally I'm at my desk by 9.30am and leave at 2.30pm for the school pick-up.
I love the challenge and daily workout my brain gets in the process of pulling a whole magazine together. No two days are the same. It depends where in the life-cycle of the magazine I'm at and can involve anything from writing sales letters or emails, phoning prospects or advertisers, chasing artwork, designing the magazine or even driving around delivering.
It's quite difficult to switch off as when you work from home, it's tempting to just check emails as you pass the computer, and it's amazing how many I get outside of normal working hours. I do a fair bit of business at weekends, before the kids go off to school and late at night. Most of this is with other working mums also trying to fi t in work around their families.
My husband and I have been together 25 years and work well as a team. He's great with the kids and gives me lots of space to work on the magazine. My advice to others looking at franchising as an option is to do lots of research first. Check out the competition and see if there's a place in the local market for you. Talk to other editors, ask lots of questions and be honest with yourself about whether or not you're really happy selling advertising space, which is probably one of the things people feel less confident about".
Helen clearly has a flair because she has already been successful as a Raring2go! editor and has expanded her territory into the neighbouring area. She now runs her original patch of Salisbury where she cut her teeth together with the bigger Bournemouth territory and is relishing the fresh challenges that the new area has brought.
Raring2go! franchisees benefit from full training and support right from the start and are supplied with a computer, IT training and magazine templates as well as the guidance and friendship of fellow editors and neighbouring franchisees. The Head Office team continue supporting franchisees with friendly, experienced guidance and care and are always at the end of a phone and often out in the field too.
Find out more about the Raring2go! Franchise by clicking below now