Catherine has become the highest earning mum in the World Options Network
June 2017
This month we hear from Catherine Turner as she talks about why she enjoys running her own Executive Courier Services Business and the success she has achieved with the World Options Franchise.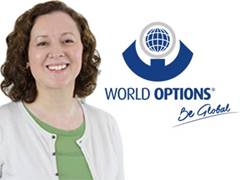 Catherine started her World Options franchise in 2012 and since then she has gone on to become the highest earning mum in the World Options network.
"Running a World Options Franchise fits in with my life, which as a mum is extremely important to me. I started my business with no experience in sales. I had a degree in illustration and was a freelance illustrator.
I remember being petrified the first time I picked up the phone to talk to a client – it was fine though and the more I did it the more I got used to it. I quickly realised I didn't need to have a sales background, I just needed to be able to talk to people.
Four years later and I have consistently grown my client base by persistently picking up the phone and going out to meet clients. In fact the business has now grown so much that I found that I reached a point where I needed to employ people to help with sales and customer care.
I am very pleased with how well my business is doing and how it continues to grow. More importantly it fits in with my life which as a mum is extremely important to have something that can fit in with my family. Not only do I not have to work weekends and bank holidays but if I want to go to sports day or the school play I can. My business allows me to give the time I need to my family.
I wouldn't hesitate to recommend this business to other working mums or indeed anyone who wants to grow a strong business with a steady residual income. The training and support from the World Options head office and customer service team is fantastic, not only from my perspective but also from my customers' perspective, who often comment how good it is. Likewise the World Options portal gets the same feedback.
If you can talk to people, are willing to put the calls in and be persistent you will reap the rewards."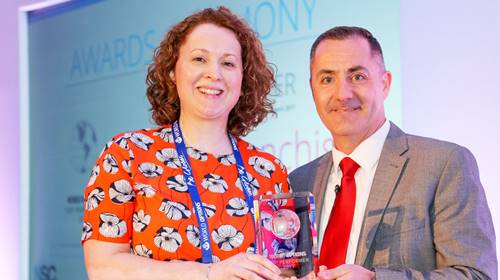 Catherine Turner receives award for performance and growth,
earning £200k + Gross Profit in 2016

What do World Options do?
World Options Franchise business offers a first class, highly competitive online parcel delivery and courier service.
100% Residual income.
Flexible hours.
Work from home, no office, no vans, no staff.
No geographical restrictions.
World-class software.
Find out more about the World Options Franchise by clicking below now!