Angela Wilson fromer Team GB Swimmer talks about her Swim School Franchise.
April 2017
This month we hear about former Team GB Swimmer, Angela Wilson who is now the CEO of Angela's Swim School. Angela turned her love and passion for swimming into a successful franchise business.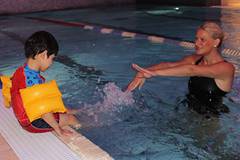 Angela first swam competitively at the age of 5, she was too small and had to be lifted onto the block. She went on to compete for Scotland at the age of 11, was selected for Team GB at 15 and competed in the World, European and Commonwealth Games.
She narrowly missed competing in the Olympics in 1992 due to a change in the qualifying rounds and having been selected again 4 years later she caught glandular fever which forced her to retire from swimming.
She decided to turn the disappointment of not achieving an Olympic medal into an opportunity to teach others to reach their full potential. She was already teaching people to swim and decided to turn it into a business.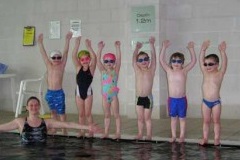 Over the last 20 years she has taught thousands of children and adults to swim and has enjoyed excellent results from her clients.
Many of the young swimmers could swim over a mile at only 5 years of age, some won medals at the World Transplant Games, some were selected to carry the Olympic torch in 2012 for their achievements in swimming and more recently one competed in Rio 2016 and two more have been selected for Team GB for Tokyo 2020. Angela has dedicated herself to helping others achieve amazing things.
Angela has dealt with many setbacks and disappointments in her life, the disappointment of not achieving her dream of an Olympic medal which she had given up everything to train for and then being diagnosed with ASD Spectrum Disorder and ADHD which she has had to learn to cope with on a daily basis. Her focus now is to improve lives both through swimming and through her business and again she is seeing amazing results.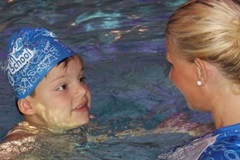 She franchised her swim school in 2014 and has established 18 franchises and seen the turnover of the network almost double each year. Her network now covers Kent, London, Surrey, Hampshire, East Sussex and Essex.
Angela has been a finalist in both the Lloyds Bank National Business awards and the Encouraging Women into Franchising Awards (EWIF). One of her franchisees won the EWIF New Woman Franchisee of the Year Award in her first year due to her hard work and dedication.
Angela has presented the Duke of Edinburgh Gold Awards at St James' Palace, she gives inspirational speeches to young people and is an active Lady Taverner. Her next challenge is to change the way swimming is taught and by expanding her franchise network throughout the UK she will be giving more people the chance to become swimmers using her unique teaching methods.
Find out more about Angela's Swim School Franchise and how you can become their next successful franchisee by clicking below now!