Catch-A-Balls, October 2016
October 2016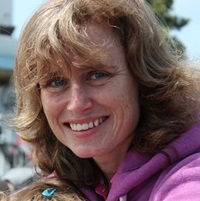 This month we hear from Heather Horler Founder of the Catch-A-Balls Franchise. Catch-A-Balls was developed by Heather out of a desire to ensure that all children have the opportunity to enjoy a healthy active life whether they choose to be a runner, cricketer, hockey or netball player.
Who is Heather?
Heather Horler, founder of Catch-a-balls has two daughters, now teenagers, who were very keen on physical activities. She became aware that there were many football and rugby classes available for toddlers. However, her girls didn't want to play "boys" games. So she trained to be a netball coach. From doing this and working with children in primary school she realised that girls did enjoy running around and being part of a team, they just want to do it on their terms and not be shoe horned into "boys" sports. So she looked into child development and devised Catch-a-balls suitable for boys and girls.
Heather firmly believes that life is about achieving a balance. Whether that is work and play or art and science. Everyone needs something that gives them a release, something that is fun and makes them feel good, and for many of us sport is just the thing.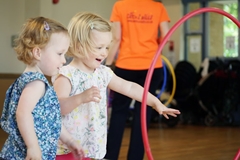 Not everyone wants to play a ball sport, so Catch-a-balls also helps with balance and movement. They look at combining skills, through this means children will be able to take on a sport of their choice when they are older.
It's all about us adults giving them as many tools as possible to give them choices.
Heather loves teaching Catch-a-balls as she just enjoys hearing what the children have to say for themselves and see them succeed, a catch or a throw is a great success for kids so it lovely to be with them when they do it.
The netball coach comes through; as many Mums have spotted that chest pass and bounce pass being practised in class will set many a player on the netball path.
Could you be a Catch-A-Balls Franchisee?
The Catch-A-Balls Franchise opportunity is suitable for self-motivated individuals who want to run a profitable family friendly business and have an interest in educating young children in the field of sporting activities.
You don't need a sporting or education background or have experience of running a business. You do need to be reasonably active and have the ability to bond with children! This business is ideally suited to parents as the work can be scheduled around school terms, and during school hours.
Find out more about the Catch-A-Balls Franchise and becoming their next franchisee visit there profile page here.