The Keepsake Co Franchise, May 2016
May 2016
Hear from Claire Turner, Social Media Manager for The Keepsake Co Franchise. Claire talks about social media and how it is vital and cost effective to promote your business, communicate with your customers and potential customers.
The Keepsake Co for example is a successful Hand-Crafted Baby Mementos Business which helps parents capture their most precious early memories. The Keepsake Co Franchise have found social media is perfect for showing off the fantastic work that their keepsake artists do, for them to engage with their customers, and bring in new business.
To find out more about the The Keepsake Co Franchise click here to visit their profile page.
So, how social is your franchise?
Whether you are just thinking about starting a new business or have an established company you can't ignore social media. It can be a vital and cost-effective way to promote your business, communicate with your customers and potential customers, and really target your advertising to the people who are most likely to buy your products or services.
More than 70% of UK adults have a social media profile and the number grows every year so the chances are some or most of your customers are using social media. The average user spends 1hour and 40mins on social media each day.
Here are some top tips to maximise the value of your social media efforts based on our experience with our keepsake businesses.
1. Go where your audience is
You don't have to be on every social media channel there is, particularly when you are starting out. Find out which channels your customers and potential customers use, and start there. For us we prioritise Facebook as we're keen to talk to mums, and they are big users of Facebook. We also use Twitter and Pinterest.
2. Make it work on a mobile and always use images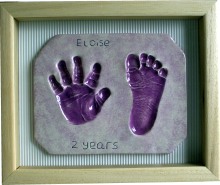 Two thirds of people now own a smartphone, using it for nearly two hours every day to browse the internet, access social media, bank and shop online. People now spend more time online via their smartphone than on a laptop or desktop computer. So the information on your social media channels has to be mobile friendly.
Clear, striking images are really important to make your posts stand out when people are scrolling through on a mobile phone.
We're lucky to have lots of great material, keepsakes being made, finished products, happy customers and compliments, these all make popular social media posts.
3. Support other businesses and they will support you
Whatever your chosen social media channels try to strike up conversations with other businesses and organisations. If you support them and share their posts, hopefully they will support you too.
You can like other Facebook pages as your page, try following lots of other people on Twitter, join twitter conversations, pin other peoples pins. At The Keepsake Co we provide a lot of social media support to our members to help them get their accounts set up and working for them to bring in business, this includes a monthly social media clinic.
We always retweet posts from our Keepsake Association members, share their Facebook posts and our Pinterest boards are full of their amazing products. This increases their visibility, generates enquiries, and is a quick and easy way for us all to engage with our customers and supporters.
4. Target your advertising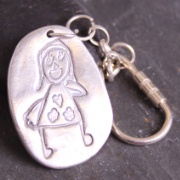 Facebook in particular allows you to be very specific about who you target, make sure you delve into the 'interests' options and pick precise categories.
We can target not just parents but parents with children of a particular age in a particular location. We spent just £2 recently boosting a post about one of our members and it generated her several orders kick starting her newly established business.
5. Make it easy for people
Include links to your social media channels on your website, in your email signature, and on flyers and other materials, make it easy for people to find you and connect with you.
Good luck on your social adventure!