The Creation Station, October 2015
October 2015
This month we hear from Sarah Cressall, the Founder and Managing Director of The Creation Station, the UK's leading and award winning Arts and Crafts Business. Sarah talks about her background, how she thought about creating the business and about the exciting franchise opportunity that they have to offer.
To find out more about the The Creation Station Franchise click here to visit their profile page.
How did you get involved with The Creation Station and what had you been doing previously?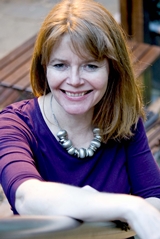 When I became a mum to my 3 boys, Sam Ollie & Josh, I noticed a significant gap in the market. Children learn so much in their early years but there was nothing that actively encouraged them to develop their thinking and problem solving and practical ways of making sense of their world.
Having run my own business before, I saw this as a huge opportunity where we could help children learn to think and work things out for themselves through creative activities which would have a positive impact. This could also help parents, as many just don't have the time, confidence, know how or opportunity to do these activities at home.
I also wanted something that would give me the freedom and flexibility to do something I loved but that could fit around my own children and family needs. That's why I developed the Creation Station. I developed the systems and programmes over 5 years and worked with the British Franchise Association. When my youngest started school I awarded our first franchise. I was able to grow it slowly and steadily and make continuous improvements and developments in response to business needs and opportunities.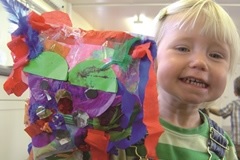 Now we have helped inspire over 170,000 children and families have a warehouse of over 13,000 products, 100 wonderful franchise owners and a really friendly and proactive creative hub head office team.
Before I established Creation Station I was Head of Art & design in a centre for young adults with disabilities. I'd ran my own art & craft design company, completing designs for Greenpeace and a 40 foot tall mural at Charing Cross station. I also worked in London as a Catering Manager, and trained to be a picture framer in my spare time.
What are the main services provided by you're the Creation Station? Are there any particular services that are unusual, new or different to other competitors in this market?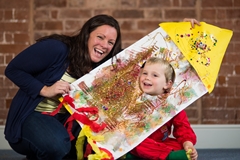 Here at The Creation Station we are passionate about inspiring imaginations and nurturing potential.
Our programmes and experience help the child to explore ideas and concepts, discover more about their world and new materials and techniques and to develop their confidence, thinking and problem solving skills.
Since 2002 our range of award winning art & craft experiences have developed due to demand, and now with the squeeze on creativity in schools there is a huge demand for our after school art & craft clubs.
Our Creation Station Franchise owners all have an exclusive territory to deliver the following educationally based and award winning experiences:

Baby Discover, Little Explorer Classes & family Fun classes
Arty Birthday Parties
Create Clubs
Event Entertainment
Retail opportunities


Request a FREE Information Pack here!


Who are typical The Creation Station franchisees in terms of their circumstances, experience of situations and how they might balance running a business around other commitments?
We award our franchise to people who share our core values. Typically our franchise owners want flexibility and the freedom to choose the working hours to run their own successful business.
Typically but not always our franchise owners are parents, and are looking for a second income for their family. Our franchise owners come from a a range of backgrounds including solicitors, Human resources managers, teachers, stay at home mums or dads, graphic artists, retail managers and most recently a Crime Scene investigator. So a wide range of background but all with the desire and drive to run a successful, flexible and fun business.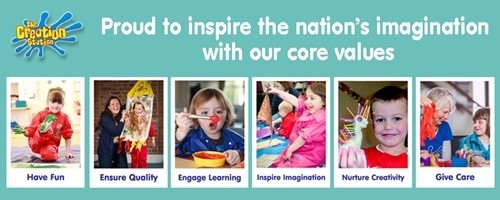 What kind of skills are required, in an individual, to run your franchised business?
The skills required are first a foremost being a people person! You have to friendly and approachable and enjoy being with children and adults. You also have to be proactive, adaptable and have a positive attitude and outlook on life.
Just so you know, you don't have to be creative, and you don't need any experience of working with children, or teaching as we provide the training and all the plans and resources to help you run your business.
What are the typical benefits sought and gained by franchisees?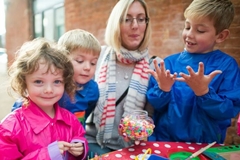 Franchise owners have said that they feel more empowered and their confidence has grown. Many say they have made lots of new friends and love being the go to person for creative fun in the area.
We talk a lot about goals in our business and people have set and achieved not just work goals but also personal goals as well. These have included taking their children to and from school every day, being in control of their working hours, paying for fantastic holidays.
Most of our franchise owners have never ran a business before, so there is a lot training, hand – holding and support available. We gained the award for the best franchise marketing support which is a testament to our commitment to support franchise owners.
How much scope is there for opening new franchises in respect to existing UK coverage and growing market potential?
We have 100 V.I.P (Very Inspirational People) Creation Station franchise owners across the UK. Their exclusive territory size depends on the size of the franchise they invested. Due to demand we do still have areas that we are looking to award a Creation Station franchise.