TaxAssist, July 2015
July 2015
TaxAssist Accountants Case Study: Sarah Ferguson AAT
This month we hear about Sarah Ferguson AAT, Franchisee in West Kensington and Enfield. Read about the exciting TaxAssist Franchise Opportunity and how Sarah decided to leave her job and try something new.

To find out more about Tax Assist click here to visit their profile page.
One of the main reasons people look to franchising is to benefit from a successful, proven model, achieving a better work-life balance and working closer to home with less commuting time. These have most definitely all been achieved by London based franchisee Sarah Ferguson, a successful business woman who hasn't looked back since joining TaxAssist Accountants.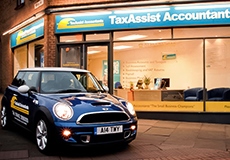 TaxAssist is an innovative and award winning franchise servicing small businesses and the self-employed.
The franchise which is this year celebrating its 20th Anniversary, was established when the founder figured out that small businesses would need help with their tax and accounts in the wake of self-assessment. Services offered include year-end accounts, tax returns, bookkeeping, VAT returns, payroll and cash flow projections.
After consistently winning awards in both the franchising and accountancy sectors, TaxAssist has grown to become the 25th largest network of accountants in the UK servicing over 53,000 clients from over 245 shops and offices.
With an MBA under her belt and both AAT qualified and a registered Chartered Accountant, Sarah decided to leave her finance Director job in 2004 and try something new.
Sarah knew that she wanted a challenge and after temping for a few months Sarah spotted a TaxAssist Accountants advert. "At that time I'd never heard of TaxAssist Accountants and knew nothing about franchising. I thought franchises were all like McDonalds. When I saw what it entailed I thought I can do that. I'd already run a business of 55 so it didn't seem very hard."
Sarah didn't waste any time. She came on a discovery day and was so impressed that within the month she had taken on the franchise.
For Sarah, the attraction of taking on a franchise was that she would be starting a company with ready-made support. "I'd had no experience of marketing or anything that wasn't accounts related and I didn't want to try and do that myself. I knew that becoming a franchisee would make it much easier as there is a TaxAssist Accountants helpline always available and they do an excellent job of marketing."

In the first year of trading Sarah made a loss, but has traded profitably ever since and now has a business with a fee bank of almost a quarter of a million pounds. Sarah is adamant that she would never return to working for someone else as her quality of life is so much better.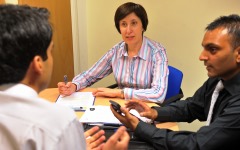 Sarah employs four staff and she only works two days a week in the office which enables her to spend more time with her children and do the school run every day. She says "I've got my laptop and iphone if I'm needed, but I've trained everyone so well they can nearly always deal with everyone if I'm not there.
I would definitely recommend running a franchise to others."
Each franchisee operates in an exclusive territory, and there are still many territories and resale opportunities available across the United Kingdom and Republic of Ireland.
The next step would then be to attend a Discovery Day at the Support Centre in Norwich, where you will be provided with more details and will get to meet with one or more of the Directors of the franchise. You will also be provided with a full list of franchisees for you to speak with as part of the research process, as well as research guides and business plan templates.