The Flexibility Of A Van Based Business
As the UK's leading pet industry franchise OSCAR Pet Foods provides a complete pet care service delivering pet food, toys, treats and pet supplies with FREE expert advice in nutrition and behaviour.
One of the many benefits of an OSCAR business is the convenience for both the customer, and the franchisee.
With an OSCAR franchise you simply need a van to operate the business and ideally a garage to store your products, before delivering directly to your customers. This gives you the flexibility to choose the hours you work and build and develop at your own pace when starting your franchise.
A van-based business can often offer a more affordable avenue into self-employment, with the added benefits of adaptability. There is no need for expensive premises or hire employees, which definitely helps to keep overheads low whilst building your business.

Why Choose An OSCAR Franchise?

Stuart Edgar explains "Choosing an OSCAR franchise was easy because I was struck by the company's honesty. From my very first enquiry I received nothing but truthful and sincere support from its amazing head office team. I immediately knew it was a brand I could get behind and feel comfortable with."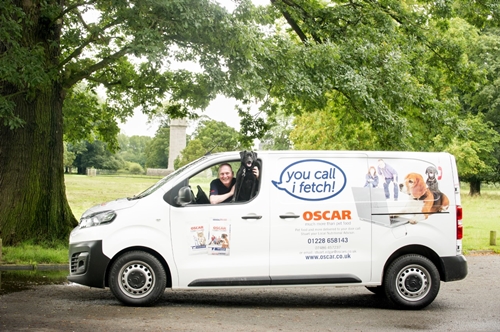 Taking on one of the company's greenfield sites in 2020 was a strategically smart move for Stuart Edgar. After a thirty-year career in sales, he quickly recognized the significance of the pet industry being classed as an essential business during the pandemic and OSCAR Pet Foods was an obvious choice.

Franchising is most rewarding when quality brands, products and services meet local community needs. Franchising in the pet industry is no exception, and OSCAR Pet Foods Carlisle proved that transferring skills from a previous career can result in fresh leads – and new customers can always be found wherever pets are having fun!
Reflecting on his franchising choice Stuart says "I love being my own boss because any 'stress' is mine. I also love the ability to work with some fantastic customers and their pets – who wouldn't? We were looking to rebalance and have a better quality of life. OSCAR Pet Foods has definitely given us that!"

Fortunately, with 25 years of successful franchising behind them, OSCAR understands that not all franchisees have the same needs. That's why they offer bespoke franchise packages based on choice and flexibility: choice of financial investment, and flexible start-up packages that manage expanding knowledge and expertise at a comfortable pace.
Companion animals have been driving industry sales, and that's a trend that will continue for the foreseeable future.
If you would like to find out more about business opportunities with OSCAR just click below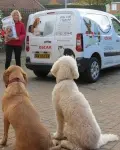 The Best Of Both Worlds
Franchising gives you the opportunity to run your own business with the flexibility and choice to create a better work-life balance.