Digital tech company aims to provide kids with proper computing education
16th October 2023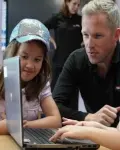 An East Lancashire digital technology company wants to reach as many children as possible to provide them with a proper computing education.
Jam Coding was first established in Blackburn in 2014 to deliver engaging computing workshops to primary schools across Lancashire. Their aim was to change the attitude around the subject by introducing learners to computational concepts in a fun setting, using various games and technologies to help them develop an understanding from an early age.
Since then, the demand for their service has been huge and the response from schools, parents, guardians and children has been phenomenal.
In 2019, Jam Coding became a franchise and has since grown to cover 30+ regions across the UK. It is now the largest private provider of computing and coding sessions for primary school children in the UK.
In 2021, the BBC reported that the UK is heading towards a digital skills shortage disaster with the number of young people taking IT subjects at GCSE having dropped by 40 per cent since 2015. This is something Jam Coding has been saying for years, but the need for their service is now more apparent than ever. Roger Grogan, chief executive and founder said: "We want to reach as many children as possible, as part of our mission to close the digital divide that exists within this country. We believe that all children deserve a proper computing education, but unfortunately, most schools lack the resources to deliver it to its full potential."
"A huge number of children also lack the resources at home, meaning they are falling behind their peers and missing out on opportunities both now and in their futures. "Put simply we believe that proper digital skills are life skills. "That's where Jam Coding comes in. We take all our own equipment to the school and the children love our fun, quirky and inspiring sessions making it easy to teach what can often be a complex subject."
Jam Coding delivers after school clubs, curriculum sessions and one-off workshops in schools helping them to maximise their computing provision."They are also passionate about keeping young people safe and offer digital safety and citizenship sessions to children from as young as four. Mr Grogan added: "We're very proud to be operating from our hometown Blackburn, growing our franchise network whilst providing a consistent, inclusive and necessary service to the digital citizens of tomorrow."
Find out more about running your own Computing Workshop Franchise with Jam Coding. Click below now!