Jam Coding and the Holiday Club Opportunity
22nd October 2023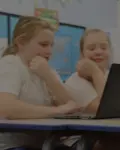 It may come as a surprise that the holidays are some of the busiest periods for Jam Coding franchise owners despite schools being closed.
Thanks to the government-funded holiday activities and food program (or HAF program, for short), Jam Coding supports children in receipt of free school meals throughout the holiday periods, whilst giving them access to opportunities that add a significant benefit to their education and general well-being.
Noor Tomlinson, Marketing and Communications Manager explained, "Our holiday club provision is hugely rewarding from both a personal and professional perspective.
It is through this program that we are able to reach the most disadvantaged children in our communities, children who might not be able to attend our sessions in normal circumstances.
Our mission as a business is to address the digital divide and give all children access to an inspiring digital education. The HAF program makes this possible."
Jam Coding has been running these sessions for a number of years, and with huge success.
Ann-Marie Leah, the Business Development Manager for Jam Coding continued, "Over the years we have refined our provision and we are now trusted by local councils all over the UK.
We have worked hard to ensure that our provision meets the program's framework of standards, which includes one hour of physical activity per day, enriching coding and computing activities, a hot meal, nutritional education and support for children and their families.
It must also be inclusive for children with special educational needs which is already a huge part of the Jam Coding ethos.
But the best news is that new franchise owners can relish in this incredible opportunity and share our success. All the groundwork, including the resources, training and guidance needed to apply and run these sessions, is already in place."
CEO Roger Grogan added, "The HAF opportunity is just one of many emerging opportunities that Jam Coding is exploring to grow opportunities for all.
We are really keen to ensure that franchise owners maximise their return on investment.
We have recently launched a brand-new curriculum, completed work with British Aerospace on an initiative and continue to work with Youth Zones and community groups around the country."
Jam Coding is proud to have supported over 8,000 young people through the HAF program, with this figure continuing to increase year after year.
Could you run your Children's Coding Business?
Maybe you are a teacher who loves working with young minds? Or perhaps you work in IT and feel there's more to life than telling people to turn it off and on again? But even if you aren't and have no computer or teaching experience, the beauty of Jam Coding is you don't need it. Their training and support will be everything you need to succeed in this franchise.
Find out how you can become part of this incredible opportunity with Jam Coding. Click below now!