Razzamataz Theatre Schools Franchise
Razzamataz joins top dance professionals at MOVE IT
20th February 2017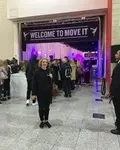 Charlotte Young, Principal of Razzamataz West Cumbria at last year's MOVE IT
Thousands of professional performers and teachers applied but only a select handful get chosen to teach at the prestigious MOVE IT event in London.
Following on from her sell out class last year, Charlotte Young, Principal of Razzamataz West Cumbria has been asked to return this year to MOVE IT on the 10th to the 12th March 2017 at Excel London to inspire more youngsters who dream of dancing.
Charlotte says:
"Last year was incredible and I loved every moment of it. It's a real honour to be asked to return again this year and to be among some of the most recognised names in dance."
Charlotte will be joining some of the top dance professionals including Kimberly Wyatt from the Pussycat Dolls, Flawless, finalist in Britain's Got Talent and Zoonation Youth Company, a company comprising some of the best young hip-hoppers in the UK.
MOVE IT is a celebration of all forms of dance and the performing arts. Over three days, it is expected more than 24,500 dancers will walk (or pirouette) through the doors to take part in classes, watch performances and get specialist careers advice. As well as dance, participants will also be able to brush up on their acting and vocal skills.
Charlotte continues:
"Last year's class was focused on street dance and this year we will be showcasing musical theatre. Having a good understanding of both genres is important for youngsters who want to progress to working in the industry professionally."
At Razzamataz, the students are offered a comprehensive training in dance, drama and singing and cover both traditional musical theatre as well as the commercial worlds of pop singing and street dance.
Charlotte adds:
"The professional industry is very tough and performers today are expected to have experience in all sorts of areas enabling them to be 'triple threat performers' so they can undertake a wide variety of roles. At Razzamataz, we give students a strong foundation to work from and during their time with us, they get to experience many performing opportunities to showcase their skills."
Due to the demand from Razzamataz students wishing to progress their performing ambitions, the company has recently launched Razz Project Intense, which focuses on the key skills that students need to successfully audition for colleges and universities.
As well as the musical theatre class on Saturday 11th March, which is now totally sold out, Razzamataz will also be exhibiting at MOVE IT on all three days on stand 215. As well as chatting to potential students, Razzamataz would like to reach out to recruit more performing arts teachers for the UK and overseas to fulfill a new contract with holiday company Eurocamp. The company are also keen to speak to potential franchisees wishing to open their own part-time Razzamataz Theatre School.
Denise Hutton-Gosney, MD and Founder of Razzamataz, says:
"There are lots of opportunities within Razzamataz for both teachers and anyone considering running their own part-time theatre school. Within our network of theatre school Principals we have many young performing arts graduates who combine working professionally in the industry with running their own Razzamataz school."
If you want to find out more about this exciting and flexible business opportunity with Razzamataz Theatre Schools then click below to request your FREE franchise information pack

Razzamataz Theatre Schools Franchise News