Q&A with babyballet®'s Newest Recruit, Miss Hollie
Hollie Watt's performance and entertainment background is one that many little girls would dream of, including the likes of becoming a 'professional mermaid'! But after two years of teaching babyballet®, Miss Hollie realised a dream of her own - opening her own babyballet® dance school!
Now, just 3 months into her journey as a babyballet® franchisee, we asked Miss Hollie to tell us about her journey so far…
Why did you choose to invest in babyballet?
I trained to be a professional Musical Theatre Performer but as the industry is so competitive and jobs are hard to come-by, I truly wondered what I would do for work. I've never been happy working a 'normal', 9 to 5 job and knew I had to find a career doing something that I believed in. Having first been introduced to the world of babyballet® as a Saturday teacher 2 years ago, I knew from the beginning that this was something special and I had to find a way to become a bigger part of it.
Once you know about babyballet® you truly realise it is so much more than just a dance class!
I knew I could (and still can) build a successful career on the foundations of the babyballet® brand and support network and I am grateful every day that I turned my life around and decided to invest in babyballet®! Working for myself suits my lifestyle and having found a support network and business I 100% believe in, I am thrilled to have turned my love for working with children and the babyballet® brand into my very own magical business.
How has the journey been so far, and how has babyballet helped you in setting up your location?
For complete transparency, the journey so far has been somewhat exhausting! But every bit just as magical! I have to say there is no way I could have achieved all this without the support of everyone across the babyballet® network.
Starting a business in the middle of a global pandemic has presented me with some additional hurdles to say the least, but babyballet® have been so proactive throughout the entire pandemic that, with their help, I know with absolute certainty I have opened my business with highest possible standards from the very beginning.
If I could change one thing, it would be to have taken more time off my other part time jobs to focus on setting up the business. babyballet® provide you with all the knowledge you need, but they can't give you more time!
How was the franchisee training and the support you were provided when learning the ins-and-outs of the business?
There is so much to learn when setting up a new business that the training is constantly ongoing. I think it will still be some time until I get my head around every aspect of owning a business. From the initial application back in February all the way to where I am today, I cannot fault the constant support and dedication of everyone at babyballet®.
Having never owned a business before, the team constantly welcome my questions and they always find time in their own busy schedules to help.
When investing into a babyballet® franchise you don't just get the training and assistance from the Head Office Team... every franchisee of babyballet® is supporting you too! It has been amazing to have such dedicated and inspiring individuals to support me in setting up and growing my business. Having a reliable and experience support network is one of the main reasons why I chose to purchase a franchise business.
What are your plans for the future of babyballet Reading and Henley-on-Thames?
I don't want to give too much away but I have big plans for babyballet® Reading and Henley-on-Thames! My main goal over this next year is to establish my business and make babyballet® Reading and Henley-on-Thames a well-known and loved children's activity provider in the Reading and Henley area.
Beyond this, with the ongoing development of the babyballet® brand, the love parents have for our award winning classes and my own ambition for success, there is no telling how big babyballet® Reading and Henley-on-Thames can be!
Find out more about the babyballet® Franchise opportunity by clicking below now!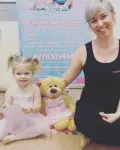 babyballet®'s Leah Stead Celebrates Territory Expansions
After two years of opening her doors babyballet®'s Leah Stead celebrates territory expansions
A Mum's View
Hear from franchisee Miss Sally who runs her babyballet® franchise in Oldham, Rochdale and Burnley.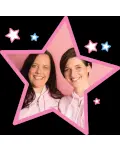 Q&A with Miss Kate & Miss Jo, franchisee at babyballet® North Tyneside
Best friends Miss Kate and Miss Jo are going into business together and bringing the UK's leading pre-school dance academy, babyballet®, to Tyneside.
What

Our Franchisees Say

The training to join the babyballet franchise family was fantastic. During the initial training course, every aspect of running a business was covered – from office and admin management through to running the dance classes themselves. From day one I felt like part of the babyballet team and nothing was too much trouble – no matter how many questions or queries I had!Miss Jessie babyballet® Franchisee, Dartford, Bexley and Bromley

It is a whole year since I started my babyballet franchise and it has been the fastest year of my life! I've absolutely loved it and can't wait to see what each year brings. This was easily the best decision I've ever made. Thank you so much to the head office team for welcoming me to the family with open arms, and to Claire for being such a fab big boss and inspiration.Miss Suzy babyballet® Franchisee, Worsley and Walkden

It's my 8th year as a babyballet franchisee and I still absolutely love it! The magic of teaching preschoolers their first steps combined with the flexibility of being my own boss, all the while knowing that I have the backing and support of such a fantastic brand, is just the best feeling ever.Miss Leanne babyballet® Franchisee, Livingston and Falkirk
Related

Franchise Categories
Related

Franchise Types