OSCAR Pet Foods Proudly Sponsors Dogs For Autism
16th May 2023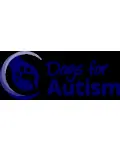 Dogs for Autism is a charity that offers free assistance dogs to individuals with autism, regardless of age or location within the UK. The charity recognizes that independence, access to education, employment and the wider community are privileges that are often taken for granted.
Unfortunately, those supported by the charity can face significant barriers to fully experiencing their world. However, with the aid of an assistance dog, potential is unlocked in a way that other interventions cannot match. Dogs for Autism provides a vital lifeline to those without comparable support. The training of these life-changing assistance dogs typically takes two years, and all forms of funding will contribute towards these costs.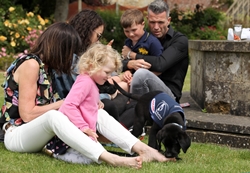 Assistance dogs trained by Dogs for Autism offer a range of benefits to autistic people, including safety outside the home, increased independence and reduced anxiety and sensory overload. With the added assistance of their dogs, the autistic recipients are better able to access education, public spaces, schools, colleges, work or even medical appointments, while also developing communication and social skills. Autism assistance dogs can help individuals develop stronger relationships and feel more connected to their chosen communities.
Dogs for Autism are proud to offer their services free of charge but rely entirely on grants and donations to cover the costs of training and maintaining the dogs. It costs approximately £25,000 to train and care for each dog, and every donation helps continue to provide life-changing assistance to those in need.
OSCAR Pet Foods provides all Dogs for Autism trainee pups with the essential nutrition they need, contributing to the healthy growth and development of the dogs as well as providing further support and expert nutritional and animal health advice. OSCAR Pet Foods offers a free delivery service to the recipient partners' homes, allowing for peace of mind with the added reassurance of regular scheduled visits that arrive promptly.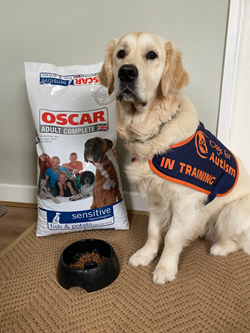 Hear from Buzzy's Puppy Parent – a one year old Golden retriever trainee assistance dog.
"Buzzy has great enthusiasm for his mealtimes and meals are always accompanied with a happy wag and end with a clean bowl.
"We love the service OSCAR provides, Philip our local OSCAR franchisee is really helpful in talking through any concerns and has been excellent at communicating and making sure we never run out of dog food. OSCAR Pet Foods helps give Buzzy the energy he needs to run, play and explore in his downtime and focus when he's in training mode."
Richard Martin – Managing Director – OSCAR Pet Foods
"We have worked closely with Dogs for Autism and their founder Hilary Armour and are extremely proud to support them by providing their pups in training with nutritious pet food to help support their healthy growth and development whilst in training with their puppy parents.
"We are looking forward to seeing all the puppies grow and develop into fully qualified assistance dogs and we will continue to support a charity that is close to our hearts at OSCAR!"

To find out more about how you can get involved and support Dogs for Autism why not visit dogsforautism.org.uk
If you are interested in working with pets and business opportunities with OSCAR just click below to find out more