OSCAR Pet Foods Inspire British Franchising With Top Performing Business Celebrating 25th Anniversary
7th March 2023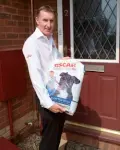 Neil Stapleton from Honiton, Devon celebrates 25 years of franchising success with just one regret: "I wish we'd started sooner"! With his late wife Lorraine, Neil created one of the most successful OSCAR Pet Food franchises from scratch.
Not surprisingly, Richard Martin – Managing Director of OSCAR Pet Foods – is delighted. "To say I am extremely proud is an understatement! Neil & Lorraine have been an absolute credit to British franchising. More than any other franchisee, Neil has inspired the whole OSCAR business – helping us to develop and grow. Happy 25th Anniversary, Neil, and thank you for your continued help and support."
Neil recalls, "It all started when our second son was born. Long hours of lorry driving were keeping me away from home and we began to dream of a better work/life balance.
"Franchising research showed OSCAR Pet Foods stood out a mile. Wowed by their product quality and honesty, we knew this family-focussed franchise business would offer security. An affordable investment package placed a business opportunity within reach and, after attending an impressive training week, we arrived home with a van full of pet food and a new life ahead!
"Making the switch from regular income to creating our own was easy – we had kids and a mortgage for motivation – and the joy of prioritising our lives around work made missing sport's day a thing of the past!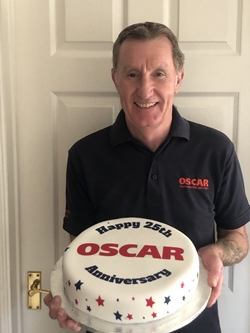 "We put our success down to the joy of being able to work to each other's strengths. Lorraine was previously a typesetter and proofreader with a keen eye for detail and a clear understanding that little things make a big difference – especially when it comes to customer care. Whilst she organised the office side of things, I set about loading the van and getting out on the road to meet new customers and look after existing ones.
"Winning the company's 'top performing franchise' award made us very proud, but it was hard work, exceptional pet nutrition and a determination to create new leads that kept those pets coming back for more!
"A trusted network plays a large part in franchising success. Just like a family, we share values, business ideas and advice. In fact, it was Lorraine and I that came up with the company's winning starter packs and bespoke show stand designs."
Looking ahead, Neil sees the franchise network going from strength to strength. With OSCAR Pet Foods winning the Feefo Gold Trusted Service Award 2023, an independent seal of excellence which recognises businesses that consistently deliver a world-class customer experience, the future for OSCAR Pet Foods Honiton looks bright.
If you are interested in working with pets and business opportunities with OSCAR just click below to find out more