Before discovering Strollercise Lin Green had worked as a Private Secretary to Government ministers; as a secretary in a Merchant Bank and most recently (following having her family) she has worked in retail. Lin has been in a customer facing role within jewellery and department store environments and latterly as a Retail Trainer introducing Vocational qualifications into the workplace.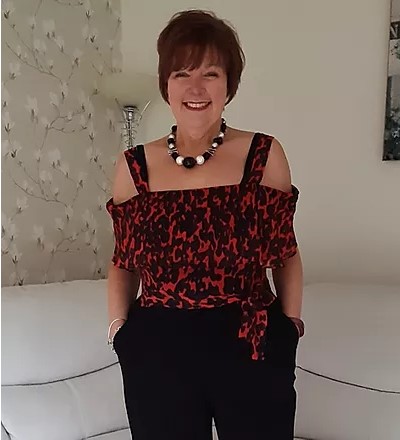 Lin is now a Retail Coach within a major auto retailer and is still working full-time in this role whilst she sets about establishing her Strollercise Franchise.
So how did Lin discover the Strollercise franchise opportunity?
"A friend had seen Strollercise advertising for franchise owners on social media. I went along to one of Samantha Williamses' (the founder of Strollercise) classes, having previously spoken to her on the phone; I was, quite literally, hooked from the first lesson. Within 2 months I had learnt all the strolls and was the proud owner of Strollercise in Rayleigh."
Lin is still in full time employment as the Strollercise franchise model means, while she grows her classes (and her income) she can organise her class hours around her current work schedule.
"Franchising allowed me the freedom to set up my own classes at times to suit my full-time role and this definitely appealed to me."
So why did she choose Strollercise over other franchises that are available?
Lin liked the fact that it is a one-off payment FOR LIFE, there is no 5 or 10 year fixed term of the franchise and no renewal fee that many others have. She also liked the fact that people can come to classes on their own, not having to rely on finding a partner each time.
With some of her well earned savings in hand, Lin took the plunge and held her first class as a franchise owner on 15-Apr-19.
"Sam has been supportive with advertising and marketing, giving hints and tips and general guidance on how to put the word out there to attract class members. The equipment is all provided and is of excellent quality, you do not need anything else to pump your music out! You even get 700 tracks to get you started, which are all organised into separate files for you to get the hang of it."
Lin also found that attending the Strollercise classes to learn the strolls, together with the brilliant instructional DVD, was a great help. Much as she had never done 'Strolling' before she had taught Ballroom, Latin American, Sequence and line dancing before and feels that this helped her to pick it up much quicker.
"You really do not need any dance teaching experience to thrive as a Strollercise franchise owner, just musicality and the ability to follow instructions."
We all know that starting up on your own, even with the support of your franchisor can be scary, so what challenges has Lin found along the way?
"The main challenge has been finding venues in the right location which are available at a time that will suit everybody. Once you realise that this is very much a 'trial and error' exercise you can then focus on the classes. As I still work full-time this has been particularly challenging because a lot of my class members, particularly as we approach the winter months, tend to prefer daytime classes. I have changed some of the classes around trying different times and locations and even have classes on a Saturday morning which seem to be very popular."
What 'highs' has Lin experienced in her new business?
"There are so many!" says Lin. "The best bits are definitely seeing people enjoying themselves, learning the strolls, sometimes struggling with some and then, after a little while, seeing the penny drop and the excitement they get from being able to do it. Plus there's the friendships that people make in the classes; both in the classes and outside maybe meeting up for coffee afterwards. I have also developed great relationship with all the strollers in my classes; they are all so supportive and keen to help me get more people in the door, which is fabulous.
Strollercise has definitely changed me as a person; it's given me more confidence; it's helped me to lose weight (alongside Slimming World) I have lost 3.5 stone in less than 6 months and toning up the wobbly bits with strolling The picture here is me in April-2019 when I first started in my franchise."
Lin is working hard towards her goal of building up her classes to a point where she can rely 100% on the classes to be able to leave her full time job.
What would Lin's advice be to someone thinking of buying a Strollercise franchise?
"Do it! Try as many classes as you can, to get a range of different styles of teaching and how the classes are run; then you can pick the best from each and adapt to your own style.

Choose your venue and advertise, advertise, advertise!!! Its hard going at the start (especially if you're still working another job) but the highs are so well worth it! You can actually see the joy that you bring into so many people lives, and at the end of each class when everyone leaves with a smile on their face … you know that you've done that!!!"
If Lin's story has interested you, find out more about the Strollercise franchise opportunity by clicking below