Lyndsey Cutler had always been involved in sales and administration roles since she left full time education. Before having her daughter she was a National Account Executive for a food company. She travelled to the head offices of supermarkets such as Asda, Tesco etc., liaising with the buyers.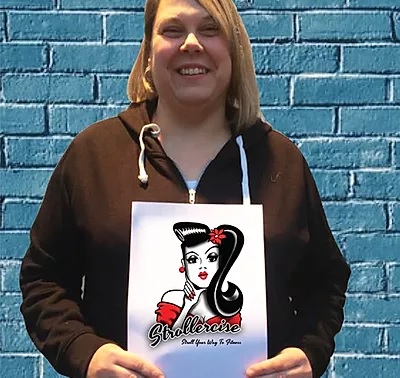 After her maternity leave came to an end Lyndsey decided not to return to her previous role mainly due to the amount of travelling and overnight stays it required her to do.
She did return to work, but in a part-time capacity, at her local Asda. She was still unsure of what I wanted to do, long term, that would fit around her family life, especially her daughter. Lyndsey worked two nights a week which gave her time at home to be with her little girl, she was also using the time to look into different career options for her future.
Lyndsey had seen the Strollercise classes being advertised and thought it looked like something she would enjoy but the class times clashed with her family and work commitments at the time so she never got to a class. She then saw a post on her local Facebook page about becoming a Strollercise franchise owner and had the feeling that she had found what she had been looking for; she arranged to go to a class and meet Strollercise founder Samantha Williams, and says: "I knew almost immediately that I wanted to go for it!"
So what made Lyndsey choose franchising over another employed career?
"I had not been interested in any other franchises at the time, but when I saw the advert for Strollercise it was already something I had been interested in joining, as a class member, but as I was also on the look out for a new career opportunity the advert caught my attention.
The thought of not being in an employed role did not faze me in the slightest and I knew I would be able to do all that was required of me. Plus, with the fantastic support of Sam and Steve I knew I had absolutely nothing to worry about. It was, and still is, very exciting to know I have my own business and that I am going to make a success of it, all while doing something that I love!"
Even though Lyndsey's husband is not involved directly with the running of her franchise business he is always there to support her. He does shift work so she planned her classes to fit around his hours and the care of their daughter.
"My husband's support comes indirectly by working with me to look after our daughter. He is always there for me and he does help when and where he can; for example coming out leaflet delivering with me and brain storming ideas together."
Lyndsey was fortunate enough to have accrued enough in her savings to invest in her Strollercise franchise and the money she is now making means she can pay herself back monthly.
What about the training and support you received from your franchisor?
"Sam Williams is always there to help and is very supportive. Whenever I message her she always replies straight away. I went to classes to train and Sam was very encouraging and gave me lots of advice. I was also given an instructional DVD which included most of the information I needed."
Lyndsey has now been a Strollercise franchise owner for one year overcoming the challenge of an initial lack of confidence but her confidence has increased so much over the last year that she doesn't think twice about standing in front of a room full of people talking over a microphone.
With her administrative background Lyndsey has found the paperwork/accounts side of things easy. She also says that:
"Strolling I can now do with my eyes closed and I still absolutely love it. I had previously taught dancing to small groups therefore giving instruction was not completely alien to me; but greeting strangers and talking to a room full of them was very daunting at first, however, I now have regular attendees in my classes therefore I am never in a room of complete strangers like I was in the beginning.
I knew this was going to be the thing which put me out of my comfort zone but I also knew that I wasn't going to let it stop me from doing it."
Lyndsey is definitely an enthusiastic Strollercise franchise owner adding that:
"There have been so many highs since starting my Strollercise business; I have seen people go from being shy and withdrawn, to becoming part of a group of friends. I also have many ladies who have had health issues (physically and mentally) which have improved since attending my classes. The end of every class is a high when I see everyone leaving smiling and laughing. The list goes on, and on!
From a business point of view, I can see my numbers increasing and becoming steadier. The steady part is very important to me as I now have a foundation and my aim now is to build on this."
What are Lyndsey's plans for the future?
"2020 is going to be a big year for my franchise business. Over the last year I have been building the foundations and getting everything up and running. In 2020 I am planning more events to get a real sense of community throughout my classes. I am planning my marketing campaign and extending my social media presence across more platforms. I also have the ambition to get leaflets though every door in my area."
What would her advice be to someone thinking of buying a Strollercise franchise?
"You definitely need to love what you are going to be doing. I run 9 classes a week and absolutely love every single one of them. If you are not enjoying what you are doing neither will your class members, the satisfaction of seeing others happy is all part of the reason I will never regret becoming a franchise owner.
You also need to make sure that it is right for you. I loved Strollercise from the second I started and wanted to be part of the growing franchise network. Luckily for me I could because it fits in with my family life and was absolutely ideal for us. I did have to consider not just the class times but also the travelling, preparation, paperwork, accounts etc. You need to be sure you are able to put the time into all the work involved, results don't just happen, they need work."
Find out how you can start your own Strollercise franchise by clicking below