Dorset Riverford Through to Franchisee of the Year Awards Final
Dorset entrepreneurs, Chris and Holly Galley, are through to the Franchisee of the Year Awards Final. The couple believes their success in reaching this stage lies in their innovative use of marketing and social media to boost their customer base, and increase local brand awareness.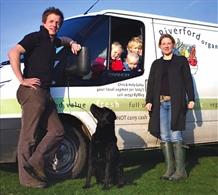 Chris and Holly Galley took over the Dorset franchise of Riverford Organic just 18 months ago, and in this short space of time have increased their number of deliveries by almost 200, and pushed cash sales up by 12%.
Says Chris: "When we took over from the previous owners, sales were declining. By improving customer care and processes and introducing social media – as well as other marketing methods such as cooking our fresh organic produce at local fairs to stimulate interest – we've taken on more regular customers. When you also consider that this is a slower time of year, because a lot of people go away and routines are disrupted, it's a great achievement. Going into autumn and the busy Christmas period, I expect our veg box sales to increase even more."
Engaging customers via Twitter and Facebook has helped the Galley's new business venture, not only by encouraging more sales, but also by creating a real sense of community both on and offline.
Says Holly: "We knew we needed to work hard on the marketing, and employed a local PR woman who has helped to galvanize the Riverford community in Dorset. We've got more than 500 followers on Facebook already, and have found that it's a brilliant environment for discussion. We can post recipes, give advice, talk about the impact of weather on crops, and generally let people know what we're up to. It's a soft approach to selling, and one that seems to work, mainly because we're not telling people how good Riverford Organic is – they're telling each other. It's actually much more about engagement and helping people make an informed choice than getting them to buy a box."
The Galley's have also made the most of social media by listening to posted comments and finding out more about what people think and want.
Says Chris: "We discovered that a lot of potential customers didn't know how flexible and affordable our veg box delivery scheme is. Many were unaware of just how easily an order can be amended or put on hold when circumstances change. Educating people about the service, we learnt, was almost important as teaching them about fresh produce.
He adds: "Using social media is simply an extension of what we already do on the doorstep. But it's more useful for gathering lots of qualitative and quantitative information quickly and easily, and improving the way we run our business."
The Galleys, who run Riverford Dorset from their family home in Motcombe, were Riverford customers for five years before they bought the franchise.
"We've always been passionate about Riverford Organic, and have waited a long time to finally get our own territory," Chris says. "We bought our franchise because we love what the company is about:†it's consideration of ethics, and things such as the specific impacts that growing and transporting organic produce has on the environment. There's almost nothing they haven't considered in these terms.
"But it's also a great investment," he adds, "and we're delighted to be finalists in the bfa HSBC Franchisee of the Year Awards so soon after getting started. Last year, a fast food franchisee won. I think it would be great for an organic business to win this year!"
To find out more information about Riverford Organic franchise click below
What

Our Franchisees Say

Trust in the Riverford Business planning process. It may seem time consuming and complicated at the outset but is based on sound /tried and tested principles. If you follow it's logic it'll give you a great steer and provide a solid base for achieving success.Hilary Garnham, Somerset West Home Delivery

It feels good to be investing in a company that has such a strong code of ethics and isn't all about making more money.Jo & Phil Limb, North Devon Home Delivery

Riverford franchisees have a level of independence that means we feel supported and not restricted.Liz Sowden, Dorking & Horsham Home delivery
Related

Franchise Categories
Related

Franchise Types