Razzamataz Theatre Schools Franchise
Young entrepreneurs launch Razzamataz business
30th July 2015
Two young people have taken their future into their own hands and launched a business that combines their passion with a strong commercial record.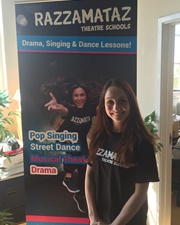 Emma Louise Campbell, 26, originally from Northumberland but now living in Cambridge is the newest franchisee owner of Razzamataz Cambridge, a part-time theatre school that gained national recognition after an appearance on Dragons' Den in 2007.
Emma Louise has been involved with performing arts from an early age and has gained her BA (hons) and MA in dance as well as performing professionally as a dancer and choreographer in the UK and abroad.
Although she has a strong performing arts background, this will be the first time she has run a business.
Emma Louise explains:
"I don't have any previous business experience so this is definitely a new challenge. I feel that the support that a franchise can offer me is the key to starting and being successful running my own business."
Emma Louise financed the Razzamataz franchise through personal savings and she is most looking forward to playing a part in the students' growth and development.
"I'm looking forward to providing new and exciting experiences for students and I'm glad that Head Office are there to provide support and back up."
Each new Razzamataz franchisee will come along to a training week at the Carlisle Head Office to learn about all aspects of running a part-time theatre school.
"The training week was particularly useful, and it was a great opportunity to ask questions and meet other Principals and the Head Office team," adds Emma Louise. "There are times it can be quite overwhelming so I try to remind myself to take one step at a time. I feel lucky to work in such a varied and exciting environment while having the support from Head Office to turn to."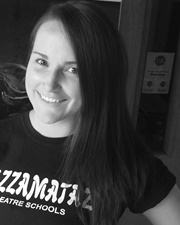 Lauren Kirkbride, who has just turned 23, is a former student of Razzamataz and has just joined the franchise business as the Principal of Razzamataz Penrith.
Whilst studying at university, Lauren got back in touch with Razzamataz and was lucky enough to travel to Majorca and Turkey on the First Choice contracts, which is where she learnt a bit more about the business side of Razzamataz and what it has to offer.
Lauren says:
"I have always liked the idea of running my own business, so when the opportunity of combining my love for performing arts with running my own business came up, I felt it was an opportunity I couldn't miss. I was very keen on being part of a network and the fact that I'm not completely on my own feel reassuring. There's always someone to ask if I'm unsure about anything and the support from Head Office is absolutely great."

Lauren financed her franchise through savings and a small business loan.

"After working with Razzamataz for a number of years I am so excited to have my own school in my local town. I am looking forward to being able to provide the children with memorable experiences and I really enjoy seeing how much fun the students will have.

I think the most difficult aspects of running a business is keeping yourself motivated and organised. During my run up to the launch, Head Office have been extremely supportive and provided a launch planner which has definitely kept me organised and feeling confident about plans ahead. It can be quite daunting in the first few months but Head Office break everything down so everything is manageable. I learnt so much at training and all my queries and questions were answered by the end of the week."
To celebrate 15 years of business, Razzamataz is offering a special promotion with a £2,015 reduction for 2015, making the franchise fee £7,980 plus VAT.
If you want to make 2015 the year you launch your own Razzamataz Theatre Schools business with lots of support, click below to request your FREE franhise information pack

Razzamataz Theatre Schools Franchise Case Studies