Taking a Slice of The Action
James Vincent has been a key member of the UK support team at ActionCOACH since 2014, leading the way on high-performance coaching as their UK Performance Director. When ActionCOACH's new Firm Builder model was released in late 2018, he immediately invested in the exclusive territory for Sheffield, with no intention of leaving his existing position in the support team.
How could he possibly manage all that?
"At first glance, it may sound like a huge challenge to keep what appears to be more than a full-time job and make a success of my own franchise territory. But when you love what you do, work becomes fun and you're happy to get out of bed each morning and prepare for a productive day. Pair that with the opportunity to put in a management team into the new ActionCOACH exclusive territory Firm Builder franchise and it becomes clear how I (and others) can juggle the two quite easily and still have a great work-life balance."
Why everyone needs a world-class coach
"Most people don't know what coaching really is. Whether it's for sport or business, you can't coach yourself and without a world-class coach, you'll never fulfil your potential. We all fight a losing battle, seeking pleasure and avoiding pain. In one scenario or another, we get blinded by ego and need that external influence to hold a mirror up. A coach does that and helps you to find a way forward.
ActionCOACH already had, and continues to add to, their world-class toolkit of over 3,500 business growth strategies and tactics – for coaches and their clients to tap into. I wanted to ensure, on top of all that, ActionCOACH business coaches are also considered world-class for their coaching. So, when I joined the UK franchise support team, we built a structure of master coaches to support our franchise partners. I'm pleased to say we now have a Net Promoter Score showing our clients rate our service higher than Apple customers rate an i-phone!"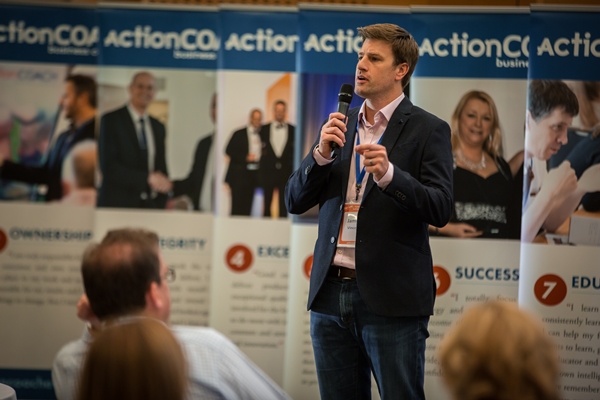 'Whether it's for sport or business, you can't coach yourself and without a world-class coach, you'll never fulfil your potential'
High standards
Whilst James continues to secure global thought leaders and highly-respected performance coaches for development days – authorities like Frank Dick and Myles Downey – the team in his own franchise territory is creating a passive income for him.
"Ever heard the phrase 'What got you here, won't get you there'? Marshall Goldsmith's book and the several times he's presented at ActionCOACH events inspired our UK Co-Founder, Ian Christelow, to rethink our franchise model. We had passed the milestone of 200 franchise partners and he was concerned that we wouldn't be able to offer the same level of support to the 400-strong network we were heading towards in less than two years. So, when the new Firm Builder licence took shape, I knew I had to invest."
Long term vision
James launched his ActionCOACH business on 1st November 2019 with both a General Manager and Business Development Manager in place.
"Our long-term goal is to transform businesses in Sheffield, connecting with those 10,000 business owners in some way. Success for me looks like a passive income with my team eager to get to work each morning because they enjoy it so much – Richard Branson personally taught me to think that way."
Next Steps
ActionCOACH is ranked in the UK's Top 5 franchises for 2019 by Elite Franchise; is the UK's Best B2B franchise; and is one of only 4 franchises to achieve 5-star franchisee satisfaction status six times.
If you have the ability to inspire and you're the kind of person who:
loves learning and developing yourself;
has enjoyed success in your career or sport; and
is willing to invest if they see substantial returns can be made…
Then find out more by clicking below
What

Our Franchisees Say

I'm making a difference to people's lives and giving meaning to mine.Parag Prasad, franchise partner since 2007

I'm in charge of my own future, I'm free, fulfilled and financially secure - not many people can say that.Roger Pemberton, franchise partner since 2007
Why

Choose Us

Access to 3,500 strategies & tactics to build your business and help business owners succeed

A network of like-minded individuals to share best practice

Achieve your success through helping other business owners succeed
Related

Franchise Categories
Related

Franchise Types