Banking on Yourself by Joanna Martorana from ActionCOACH
Joanna Martorana was at a pivotal point in her life when she found ActionCOACH. Just four months into her journey as a franchise partner, she talks to us about her experiences and motivations: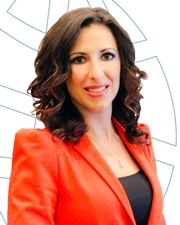 "During my 12-year career in investment banking I had got married and had 2 children whilst working 12-hour days! I was well aware that sacrificing time with my family was far too big a price to pay. I had a wake up call in 2013 which led to my marriage ending a year later. I knew that this huge life-changing decision was still not enough and that by 2015 I had to have made another big change to find happiness through my own personal fulfilment. I had to be doing something different to spend more time with my family; I had to invest in us.
In October 2014, the lightning bolt hit. I went to Brad Sugars' seminar and, on the spot, I was hugely inspired and I knew that this was my calling. It was a catalyst for changing my life for the better. I hadn't been looking to start my own business or buying a franchise but my gut feeling said that ActionCOACH was what I had been looking for to make that change.
Of course, it was still a big decision to leave my job and it took eight months in due diligence to prepare myself mentally to start this new part of my life. I've always believed that if you work on yourself then things will come good. This is even more important with ActionCOACH because the business is about people so you have to be happy in yourself first.
On 22nd June 2015, I attended two weeks of ActionCOACH University. This is where I found out about perturbation. Perturbation is where you deviate from your comfort zone, you put yourself into a state of feeling perturbed so that you can find your way back to an equilibrium. I liken it to Clark Kent's transformation as he goes to his Fortress of Solitude only to return to fulfill his destiny and become Superman! You go to ActionCOACH 'boot camp' as you and come out on a new journey to become an ActionCOACH ready to take on your ActionCOACH business.
ActionCOACH University is a grueling fortnight of training and development. It is this that can bring on that uneasiness of self-doubt and anxiety so that you can build yourself back up to set yourself up to fast track your success. If you take the easy road it'll take you longer to get there; this fortnight is the longer, more challenging training approach. This business coaching boot camp also gives you a taster of what your clients will go through as you coach them so it is important that you are congruent and have first-hand experience of what you are putting them through. Business owners are so protective of their companies that they can go through a real emotional and mental rollercoaster and this training has given me the empathy to deal with my clients so much better.
In July I started my ActionCOACH business in Hertfordshire. I won my first client in just three weeks. My dad had worked with this business some years ago, the family business had been passed down to the sons and now I was there to make sure their business could thrive for the next generation. Three months in and I have four clients through a mixture of business development strategies suggested by the franchise support team.
Additionally, I have 3 strategic alliances, 2 with accountancy firms and another with an IFA where I am coaching them for free for 3 months in exchange for running planned Business Growth workshops with their clients and their referrals. I also use the ActionCOACH client generation centre in Chesterfield. I work hard to build relationships with their marketing team which includes Jon Asquith and his dedicated team.
I consider myself to be a relatively confident sales person but Jon and James Vincent who coach and do the sales webinar every Monday have really built my confidence on my sales and marketing strategies. I'm selling my services to clients because I build relationships. Being a business owner can be very lonely and daunting and I can offer to support them so they feel like they have an extra player on the team.
Following the ActionCOACH franchise system is another reason why my business has taken off so quickly. I like following systems and I think the support from the franchise team is excellent. John Cottrell is my coach's coach and I work with him every month on developing my business, developing my coaching skills and, more importantly, developing me personally to become a better me for my family and my clients. At times this takes me back to that state of perturbation that I need to make another leap forward in my development. And as for Julie Wagstaff, co-founder of ActionCOACH in the UK, well… she is a fantastic support along with the rest of the team in head office; they have a smile in their voice whenever I call!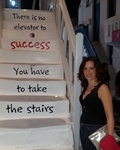 ActionCOACH is a fantastic network. I have so many people to support me and they all genuinely care about how I am doing. I truly believe that if you build relationships then people will want to help you and the results speak for themselves.
I held my first affiliate seminar in August attended by 31 people, 24 of whom were business owners and I booked 10 meetings. I have diversified my marketing strategy and budget to include specialists like Luv4 Marketing for my online marketing, Chesterfield marketers, networking events and, importantly, harnessing the personal business connections.
On a personal note, the perceived risk I took to leave my job in banking and start a business has paid off almost immediately. My work-life balance changed overnight. I can now take my kids to school and pick them up because I choose to work 9-3 Monday to Friday. The first three months were stressful but that was expected. What I didn't expect was to bank £5,000 in my third month of operation and how great a feeling it is to know that my clients are already benefiting way more!
I've had to update my 6-month goal as I had already reached it so now my next big goals are to bank £10k a month by Christmas and £25k by the end of my first 12 months. Long term, I'm passionate about leadership. I'd like to specialise in leadership coaching as I think it's the starting point for organisation success; fix things from top-down and the results will follow.
There is a famous quote from business coach and author Tony Gaskins: Don't chase love, fame or success. Become the best version of yourself and those things will chase you. I banked on myself and embraced personal development. ActionCOACH is already changing my life for the better and the investment was worth every single penny. The whole team deserve all their successes."
Find out more about the ActionCOACH franchise for yourself by clicking below
What

Our Franchisees Say

I'm in charge of my own future, I'm free, fulfilled and financially secure - not many people can say that.Roger Pemberton, franchise partner since 2007

I'm making a difference to people's lives and giving meaning to mine.Parag Prasad, franchise partner since 2007
Why

Choose Us

Access to 3,500 strategies & tactics to build your business and help business owners succeed

Achieve your success through helping other business owners succeed

A network of like-minded individuals to share best practice
Related

Franchise Categories
Related

Franchise Types