Accounting Franchise
Become part of a trusted, sustainable and successful Franchise Network that has consistently led the way in Accounting Excellence for 20+ years!
Certax is considered a major force in the Accountancy Sector. Their established network embodies quality and professionalism, which has led Certax to become one of the leading Independent Accountancy and Taxation Franchises.
Launched in September 1999, Certax Accounting has grown to produce a number of Professional Accountancy Practice Franchises across the UK.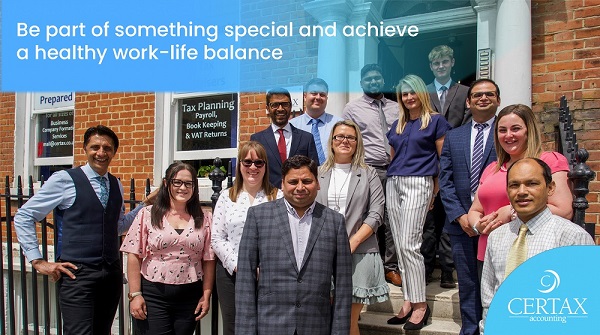 Could you run your own Certax Accounting Franchise?
There is no minimum qualification required to become a Certax Accountancy Franchisee, but you must have experience in the finance sector.
With Certax there is not any disadvantage in not being a qualified accountant. The unique benefit of belonging to the Certax Accountancy Franchise is that many of their Directors and technical advisors are indeed Professionally Qualified Accountants and Tax advisors, meaning that should a franchisee require the expertise of such a person – this can be arranged quickly.
However, the overwhelming majority of all the day-to-day activities carried out at home or in a busy high street accounting practice can be done by well-trained and supported franchisees without the need for any formal qualifications. Being a Certax Franchisee will lead to professional qualifications with the AFA or any other accounting bodies.
The Certax Accounting Franchise Opportunity:
The Certax Accounting Franchise strives to provide franchisees with a positive return on their investment whilst creating and supporting peerless Accountancy and Tax Professionals. You will be provided with the best-in-class resources, enabling you to advise and help businesses, therefore, ensuring their success and profitability.
Why Choose the Certax Accounting Franchise:
Benefit from unlimited technical support, ongoing training, best-in-class marketing, quality lead generation, and real-time financial updates.
Achieve a positive return on your investment. New Certax Practices are projected to have a Net Profit of £45,000 within 12 to 18 months.

Training and Support:
Certax aim to upskill suitable professionals in the disciplines required to set up and operate their Accounting Franchise. Combined with best-in-class, time saving software, this enables franchisees to comply with the day-to-day Accountancy and Tax requirements of small and medium-sized businesses.
The Certax Accountancy Franchise Model promotes efficiency. Therefore, franchisees can spend more time advising their clients on other financial aspects to make their business more profitable.
The Investment:
The comprehensive start-up support package system has accessible entry points and makes it easy for you to get started and be a successful accountant quickly.
There are three franchise packages available with comprehensive courses included within the package:
The Book-keeping Package £10,995 + VAT:
3-day course and includes general double-entry book-keeping principles, MTD, VAT, Payroll, monthly management accounts and SA100 tax returns.
The Qualified Accountants Package £15,250 + VAT:
Initial 3 day training course aimed at professionally qualified Accountants including ACCA, CIMA, ACA and AAT. It may also be appropriate for people qualified by experience. Attendees must have up-to-date working knowledge of general accounting principles. The course would build on this and cover current tax legislation along with recommended supporting software.
The Full Accountants Package £26,250 + VAT:
4 week course aimed at financially capable persons who may not specifically have current knowledge of general accounting principles or tax legislations. This course is much more intense, covers a much wider variety of subjects and includes a greater number of case studies to be completed.
Find out more about how you can start your own Certax Accounting Franchise. Click the button below now!
Why

Choose Us

You will receive ongoing technical, marketing and compliance support.

Selecting to join an accounting franchise is statistically the safest way to achieve success as a new business venture.

Instant access to a technical helpline to provide you with the support required from highly experienced, fully qualified accountants.
Related

Franchise Categories
Related

Franchise Types