Over the past quarter, Aspray has seen four of its franchisees choose to renew their franchise agreements
13th November 2023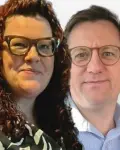 Franchise Renewals: building business in a dynamic and sustainable industry.
In the world of franchising, renewals are a testament to the strength and sustainability of a business model. Over the past quarter, Aspray has seen four of its franchisees choose to renew their franchise agreements. These franchise renewals not only reflect the confidence that franchisees have in the Aspray model but also highlight the potential for long-term success within the industry.
Aspray (Sunderland): Sara and Ben Holmes
Sara and Ben Holmes, the owners of Aspray (Sunderland), have chosen to renew their Aspray Property Franchise for a second term. Sara initially began the franchise in 2018 following a successful career within the property industry. Her commitment to excellence and dedication to serving her clients has earned Sara a strong reputation in her community.
Business took an upturn in 2021 when storm Arwen and Storm Barra hit the North East, causing sheer devastation to countless homes and businesses in the area. Sara worked tirelessly during this time, getting properties reinstated as quickly as possible. Her tremendous efforts won Sara the prestigious 'Franchisee of the Year' 2021.
Upon winning the awards, Sara said: "I'm very proud to be part of the Aspray network and to receive this award was truly amazing. My business relies on a team of people and I couldn't deliver my services without the contractors who share my passion for excellence and the introducers who trust me to help their customers. This award is for you all."
Knowing that business was growing, Sara brought in husband Ben, who shares her passion for property and exceptional customer service.
By renewing their franchise, Sara and Ben are positioning themselves for even greater success in the years to come. And with the continued support of the Aspray network, they are equipped to continue providing exceptional service and expanding their reach in the Sunderland area.
Aspray Swindon and Gloucester: Mark Fletcher
Mark Fletcher, the owner of Aspray Swindon and Gloucester, has also decided to renew his Aspray Property Franchise for a second term. Mark's journey with Aspray has been marked by his commitment to helping clients navigate the insurance claims process with ease. His expertise and dedication have made him a trusted figure in the Swindon and Gloucester regions.
Mark started his Aspray Property Franchise within the Swindon territory. But when the Gloucester franchisee decided it was time to move on to ventures new, Mark snapped up the opportunity to expand his business into a multi-unit franchise.
With his wealth of knowledge surrounding building surveying and restoration, Mark is an asset to the community he serves. His exceptional customer reviews are jus further proof of how much his service means to his customers.
Customer Gary said about Mark: "If you are in the position of needing the services of Mark at Aspray, then do not think about it, just contact him. You will not be disappointed, actually you will be totally delighted, as we are. Mark was contacted due to our property flooding with sewerage, due to negligence at Thames Water. A horrible position to be in. After contacting Mark, we were able to then relax, stand back and leave it in Marks capable hands. He handled everything from there and ensured that the work was carried out to the best of standards…"
Mark's decision to renew his franchise signals his intention to continue growing his presence in his local market. Taking on new challenges as he scales his business and ultimately helps more customers through stressful situations.
Aspray Liverpool: Colin Felton
Colin Felton, the owner of Aspray Liverpool, is another franchisee who has chosen to renew his Aspray Property Franchise for a second term. Colin's passion for assisting homeowners and property owners with their insurance claims has been a driving force behind his success. His dedication to client satisfaction has earned him a strong reputation in the Liverpool area.
Before joining Aspray, Colin ran a successful franchise elsewhere. And he is therefore quick to recognise the benefits Aspray has provided him as he built his business within claims management.
Colin has been a multi-unit owner for some time and his decision to renew his franchise agreement for a further five years reaffirms the notion that Aspray offers a long-term, scalable business opportunity. The insurance industry consistently presents opportunities for claims management, making it a resilient and evergreen field for franchisees. With the support of Aspray's resources and expertise, Colin is well-positioned to continue his mission of helping clients in Liverpool while expanding his business.
Aspray Tunbridge Wells, Eastbourne, and Maidstone: Clive Hawkesley
Clive Hawkesley, the owner of Aspray Tunbridge Wells, Eastbourne, and Maidstone, stands out as an exemplary franchisee who has renewed his Aspray Property Franchise for a third term. Clive's commitment to excellence and his ability to provide top-notch service to clients in multiple locations have been instrumental in his long-term success.
As owner of one of the largest Aspray Property Franchisees in the network, Clive is supported by a team of loss assessors who help to manage the claims across his three territories. Taking on a second territory during his first term with Aspray, it was clear that Clive would be a high achiever within the network. As his business grew, Clive seized the opportunity to take on a third area from a departing franchisee, broadening his reach and extending his tremendous service further than ever.
As a multi-award-winning franchisee, Clive is no stranger to the limelight at the Aspray national conference. And with a decade of experience under his belt as an Aspray franchise owner, we can't wait to see what the next five years holds for this successful franchisee.
Franchise Renewals: celebrating another 5 years with the Aspray Property Franchise
Aspray's recent franchise renewals are a testament to the strength of its business model and the potential for long-term success in the property claims management industry. Franchisees like Sara and Ben Holmes, Mark Fletcher, Colin Felton, and Clive Hawkesley have all chosen to renew their agreements because they recognise the scalability and sustainability of the Aspray model.
Aspray provides franchisees with the training, support, and resources necessary to build thriving businesses that can serve their communities for years to come. The renewals of these franchises showcase the enduring value of Aspray's approach to property claims management and the bright future that awaits those who choose to embark on this entrepreneurial journey. Whether it's a first, second, or even a third renewal, the Aspray franchise offers a pathway to long-term success in a dynamic and essential industry.
Find out more about how you can start your own Aspray Property Franchise. Click below now!