Be Your Own Magazine Editor At Home
14th March 2019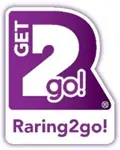 Are you bored, frustrated and feel you want more of a challenge in life? Sounds like you?
It's a fact that more so than ever before people are deciding to go it alone – which underpins the staggering growth of franchising in this country.
There's been a stark growth in self-employment in the UK since the turn of the century, with numbers now reaching around 4.8m people according to the Office for National Statistics; that's over 15% of the country's labor force. More than 1m of those are estimated to be part of the gig economy.
One area of massive growth for those who want to be their own boss is the franchise area – where you buy into an existing business and are supported through the start up process and beyond as you grow and succeed.
One of the most successful franchises out there is Raring2go! which is a magazine and website franchise known as the 'Go To Guide for You and Your Child'. Its audience are families with primary school age children and it reaches 700,000 families with magazines distributed in children School Bags. So no worries about distribution – its all in place.
Franchisee's write, produce and edit a colourful and vibrant quarterly A5 glossy magazine with content split between paid-for advertising and highly relevant local editorial.
Revenue is generated by selling advertising in each edition to local businesses that want to position themselves in front of the family audience.
Advertising content is merged with local editorial (what's on listings, events, days out) so magazines are more than an advertising directory. They have coffee table resilience and are known, loved and trusted by parents.
Franchisees also manage their own local website which offers additional revenue streams from advertising banners, MPUs, feature pages and e-newsletters.
A Raring2go! Franchise costs only £15,995 + VAT and comes with an all-inclusive start up package, so there really are no hidden costs. Everything from images, feature articles and page layout to printing (first 4 issues) is all included.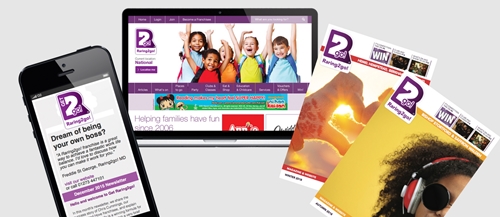 The good people behind Raring2go! also know how tough starting out in business is and how stressful the first year of operation can be – which is why they have just announced that they are putting their money where their mouth is and committing to reinvesting over £10,000 straight back in a new franchisee's businesses. They are doing this by waiving all licence fees for the first 12 months and covering the print costs of the first four editions of a new franchisee's magazine.
This means that for the first 12 months of trading, new franchisee's can focus 100% on building their business, raising awareness locally, developing relationships with new accounts and making money… without the burden or distraction of invoices from head office.
With a number of areas available Raring2go are looking for people with some form of sales background, though not essential as they provide a rock-solid sales training programme as part of the start up package. What they really do need though are people who are confident and comfortable in building relationships with local business and selling advertising. If this is you, then this is a fantastic way to work from home and become your own boss.
The man behind the business Freddie St George explained why he making this heavy investment in people who want to go it alone:
"We genuinely believe our business is brilliant and we want our franchisees to fly from the very outset. We believe this 'helping hand' will make a huge difference to new franchisee's and take the focus away from worrying about finances and shift it firmly towards making sure they hit the ground running from day one and start generating revenue / income".
Raring2go! has a limited number of territories available across the UK. For further information just click below
What

Our Franchisees Say

I'm proud to be part of the Raring2go! national family and love what I do. Every day brings something new and we not only help local families have fun and make the most of the local area but we help local businesses reach those families, helping our local areas thrive. What's not to love about that? #Raring2go!Victoria Withy Editor Raring2go! - Aberdeen City & Shire

Being an Editor for Raring2go! has been the best thing ever for me and my family. Having had my two children I knew I didn't want to go back into the 9-5 rut but I also knew that I wanted to do something to challenge me as I'd always worked in fairly highly-pressurised environments and wanted that buzz back!Jayne Deakin Editor Raring2go! - Bury & Bolton

I have achieved so much in my confidence, building friendships, getting out into networking groups. If you're thinking of working for yourself, to have a great job opportunity that is flexible around your family and lets you still do everything you need to do for your family then Raring2go! is for you.Kiri St George Editor Raring2go! - Worthing
Why

Choose Us

A network of 50 brilliant franchisees who wore closely together

No childcare costs, no stressful commute, up to 13 weeks holiday per year

6 months of cost free operation to enable you to become established
Related

Franchise Categories
Related

Franchise Types