Ross's 76k Multi-Generational Booking
Ross joined The Travel Franchise at the end of last year. In fact, he was part of the last training group of 2020. After his music production business slowed following the pandemic, Ross went with our Elite franchise package to start his instant travel business.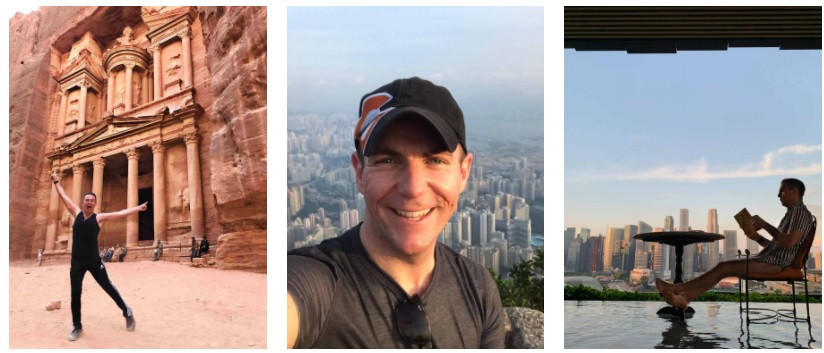 More about this £76k holiday booking…
"The booking was for a family of eleven and it's multi-generational! They are all going to Orlando for Easter 2022.

One half of the family is coming over from Portugal and the other half from Manchester. They are all flying business class and they are staying at the Hard Rock Universal resort.

I've booked them 4 king suites, attraction park tickets, flights, transfers all included."
How did you find such a customer?
"This couple originally came from a Facebook advert I did about 6+ months ago. It was amazing how a paid Facebook post can connect you with people you otherwise would never have met.

Although this isn't the whole story…

I've been in touch with this family for 6+months, as they had booked a previous holiday which was cancelled. Through sorting credit notes, cancellations I've continued to deliver the best possible customer service at a difficult time, I've built trust and demonstrated that I'm always there to help.

This made it so easy for them to reach out to me on WhatsApp one evening asking for a trip to Orlando."
How was the booking process as a Not Just Travel franchisee?
"Gold medal is the holiday supplier I used for this booking. Everyone who joins gets access to this supplier and hundreds more. Gold medal were fantastic.

I've worked to build a great relationship with this supplier over the last few months. I actually live 25 minutes from their head office which may come in handy one day.

I have a direct point of contact there now, someone who I trust in their team and can rely upon to make bookings like this happen.

The trainers will pre-empt that you'll work with just a handful of holiday suppliers 90% of the time.

My advice is to find someone you work well with and invest in that working relationship, it will make your life so much easier. My advice is don't slip into the mistake of making everything transactional.

I'm planning to send that person at Gold Medal a thank-you hamper, to show my appreciation for their help."
Can you share 4 top tips for being a successful travel consultant?
1.

Be patient

You'll often want holiday bookings to move over the line quickly, to close and the commissions to come in. But more often than not there are hoops to jump through, or you have to wait for suppliers to confirm what's available for the customer. Patience is key.

2.

Relationships are everything

Relationship building is at the heart of having a successful business. Not just those relationships with your customers but with your holiday suppliers too.

3.

Listen to what your customer wants

It would be so easy to assume what your customer is looking for. Find out 'what they want' as well as 'what they don't' want. Expect some back and forth, especially for tailor-made trips. This is your opportunity to demonstrate your customer service and level of personalisation.

4.

Referrals are everything

If you deliver an exceptional service they will tell friends and it will come back around. Spend extra time to make the experience from start to finish outstanding, going above and beyond. This can be the response time, the wording of your emails, the little extras wherever you can to make your business memorable.
Find out more about The Travel Franchise and running your own successful Travel Agency Business.
Click below now!
What

Our Franchisees Say

'The Travel Franchise offers you everything you need to create a successful travel business and to be your own boss. It's hard work, but starting a new business is within any sector. The growth in the business and quality of the training and materials you are equipped with really puts you in a superb position to build a fantastic travel business.

'I've more time with my family now. I have more time to get away with my family. It's given me a new lease of life and something to be joyful about.

I did £340k of turnover in my first year. I'm now looking for my next challenge, reaching 1 million turnover by the end of year 2.
Why

Choose Us

Work from home part-time or full-time

Work the hours that suit you

Win your franchise fee back with our Money Back Challenge
Related

Franchise Categories
Related

Franchise Types