Lorraine Musto had always worked in an office (for 50 years!). She started in 1969 as a junior secretary, in an office in London. Through the years she had other jobs outside an office environment, mainly in pub and restaurant related positions.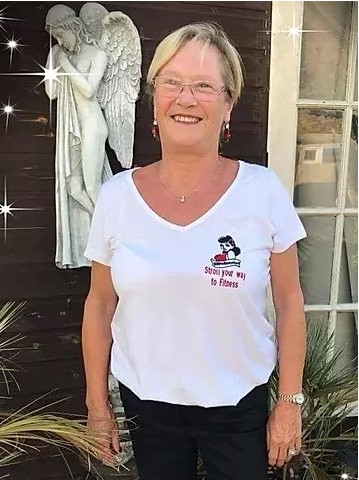 Her last position was an accounts assistant for 11 years but she was made redundant in March 2018, at the grand young age of 64, and wondered "Well what do I do now?"
The idea of investing in a franchise had never cropped up anywhere in her life, until she discovered her love for Strollercise, so when they franchised the business in July 2018 she was at the front of the queue!
Lorraine adds that: "I had been attending Sam's Strollercise classes for quite a while before they announced that they were franchising the business. Sam felt that I was competent and confident enough to take on the franchise; Sam and Steve are always approachable and at the end of the phone if ever I need help and advice."
But why not stay in an employed position?
Lorraine explains: "I chose franchising over staying in employment because after a long office based career, I did not want to return to that environment. With a franchise I was in control but I had the support of my franchisor."
Lorraine did not consider any other franchise, once she made the decision, for her there was never going to be any other choice than Strollercise. As a bonus her husband is fully supportive, even though he is not directly involved in her Strollercise franchise.
Asked if there have been any challenges she has faced while getting to know her new Strollercise business Lorraine says: "Actually setting up a Facebook page and all the media related issues was initially quite a challenge. Securing the halls and negotiating rates and actually putting myself 'out there' was difficult at first.
Since starting my Strollercise franchise, I have learned that you have to be realistic about attendance numbers. They fluctuate on (a) weekly basis, (b) monthly basis, (c) according to the weather, (d) members other commitments. You have to take it all in your stride and not stress about it, and more importantly, not take it personally.
My personal 'high' so far is when I take a class with a good attendance, I stand back and watch and feel so proud to think that I've taught all those people what they are doing at this moment in time and I plan to carry on running my Strollercise classes for as long as I can!"
What would Lorraine's advice be to someone thinking joining Strollercise?
"Ask loads of questions and do lots of research, but you must, above all, find that place in the market. (Thank you very much to Sam and Steve who did that for me)."
Find out how you can start your own Strollercise franchise by clicking below