Lucy Cameron Joined ActionCOACH in March 2012
Before joining ActionCOACH in March 2012, Lucy was working for Cross-rail on a project to install a new tube line across London.
"I left my previous job as I was commuting from Sussex to Canary Wharf everyday I had very little work-life balance. My husband was also commuting into London, with 3 young children the set up was far from ideal. We decided that one of us needed to be more rooted and closer to home so I pursued other opportunities in order to improve mine and my children's home life.
I chose franchising because I felt starting up alone was too isolated. I like to have like-minded people around me to share ideas with. I like the level of training and support offered with a franchise. I'm used to developing businesses but not the sales and marketing side of things. The support from ActionCOACH has been invaluable."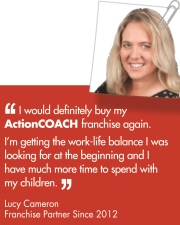 ActionCOACH is the world's number 1 business coaching franchise. Their unique approach to coaching has benefitted business owners around the world, because most business people excel at their trade or profession but are not so great at the 'business of business'. As a result, many business owners fail due to financial trouble or burnout, their hopes and dreams are lost even though they were trying their hardest to succeed. That's where Action business coaches like Lucy come in. They help business owners develop great teams, strong finances, powerful systems, unique marketing and selling to give them the business and life they dream of.
"I chose ActionCOACH because they are a credible business well-established in the business coaching industry. They've been highly professional from the start and the quality of the other coaches is extremely good. I looked at other types of franchises but I selected ActionCOACH as it was a natural blend of my business and people development skills. It took me around 3 months to do my due diligence and to decide to buy my franchise."
Training and support are key to ActionCOACH's success. Lucy was not only trained in how best to create a successful business model for her own business but was also taught the tools and systems she needed to make her clients' businesses a success as well. As an Action business coach you receive ongoing support through regional, national and global conferences and, of course, you get your own coach's coach to help you succeed.
"For my training, I spent 10 days in Las Vegas. I was surprised at how focused on sales and marketing the training was and not on how to be a business coach. The training was a steep learning curve for me; there was a lot of information to take in. It's taken me about a year to master the marketing and sales side of things properly, anyone coming into the business with a background in those areas will definitely have an advantage!
Initially, some new coaches are tempted to try to tweak and change ActionCOACH's methods to suit their style but it doesn't work like that. You have to follow their system or you will not get the benefits of everything the franchise system offers. ActionCOACH are the experts and have done it all before, they have refined and developed the business model so it really does work.
I would definitely buy an ActionCOACH franchise again. The first year was a bit of a rollercoaster because it was quite a big difference to anything I'd done before. Over the last 6 months I've really found my feet. I'm getting the work-life balance I was looking for at the beginning and I have much more time to spend with my children. I try not to work on Fridays and I have the time to be more involved with my children. I can now eat breakfast and dinner with them and attend their school assemblies.
My advice to anyone looking to buy an ActionCOACH franchise would be to be realistic about what you can achieve in the first couple of years. Be prepared for an emotional rollercoaster and really focus on the sales and marketing to help your business be successful. The first year's all about building relationships in the business community."
There's strength in numbers for Lucy with the many coaches she can join forces with at ActionCOACH.

"For the future, I'm planning to work closely with two other coaches and we're going to run more joint events and share our sales and marketing."
If you think you share some of Lucy's traits and you'd like to join ActionCOACH and do what she does, just click below
What

Our Franchisees Say

I'm making a difference to people's lives and giving meaning to mine.Parag Prasad, franchise partner since 2007

I'm in charge of my own future, I'm free, fulfilled and financially secure - not many people can say that.Roger Pemberton, franchise partner since 2007
Why

Choose Us

Save time, money and worry on trial & error ... tried & tested since 1993

Access to 3,500 strategies & tactics to build your business and help business owners succeed

Achieve your success through helping other business owners succeed
Related

Franchise Categories
Related

Franchise Types