Pam Featherstone Joined ActionCOACH in 2012
Pam Featherstone was fairly comfortably retired, at the young age of 48, with an impressive, but expanding, property portfolio, when she came across the ActionCOACH franchise.

One of her property investment contacts, Chris Fordy, was actually consulting with an ActionCOACH franchise partner, so Pam asked him about ActionCOACH.
This interaction with Chris made Pam re-think her 'retirement plan' saying:
"Because I had over 3 decades of experience, and really enjoy motivating and inspiring people, I wanted to know more about the ActionCOACH business and how it worked."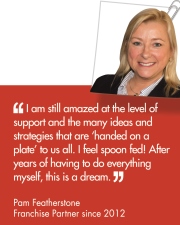 Pam's main background wasn't an obvious pre-cursor to business coaching, having previously owned and run laser clinics until July 2009, as well as many other types of businesses, including retail and service businesses. Pam was also running her own business consultancy after retiring and continued to do so until April 2012. However, it is often the case, with ActionCOACH franchise partners, that their backgrounds are not an obvious spring board into business coaching. Our franchise partners come from many different walks of life, but some of the things they all have in common are; a passion for business and helping people succeed, a track record of success and a desire to continue learning.
Why did Pam choose franchising over an employed career or non-franchised business?
Pam had run her own businesses for over 30 years so she knew all about being self-employed, and having to do it all yourself, so when she learnt about the training and ongoing support afforded to ActionCOACH franchise partners, the decision to join them was easy. The business coaching aligned itself perfectly with the business consulting she had been doing for the previous 3 years and the lure of being able to continue motivating and inspiring business owners to be the best that they can be absolutely sealed the deal for her.
"I actually met with Brad Sugars (the founder of ActionCOACH), who I found to be one of the most inspiring and charismatic people I have ever encountered. I decided to come out of retirement to become an ActionCOACH".
How did ActionCOACH help with your transition to becoming a Business Coach?
Even though Pam knew she would receive training and support from ActionCOACH the actual level of this that she has received, since joining them, still astonishes her even now:

"I continue to be amazed at the level of support and the many ideas and strategies that are shared amongst our coaching community! After all those years of having to do everything myself, this really is a dream.
The initial training at the ActionCOACH University was intensive and like no other training programme I had ever attended.
I am a really decisive person and love all things business related. Having met Brad Sugars, and other coaches, as well as attending an ActionCOACH event, I knew for sure that it was the right decision for me.
After joining ActionCOACH I contacted Peter Boolkah, the number 1 coach in the UK, to get him to coach me until I was the number 1 coach in the UK and knock him off his perch. I am congruent with what I teach and believe to be the best 'me' that I can be, it is important to have a coach.
I had been a successful business owner for over 30 years but I still found that I learnt a lot through Peter's expertise and guidance. His incredible intuition is matched by his immense integrity.
I found his desire to inspire and empower over 100,000 people in creating long term sustainable wealth truly inspiring and I have no doubt that he will achieve this, as he truly understands people and what drives them."
We asked Pam what challenges she has faced since becoming an ActionCOACH and her face takes on a serious and determined look as she says:

"When I meet business owners who feel that having a business coach means they don't know what they're doing, or it is a sign of weakness, I explain to them that they this assumption couldn't be further from the truth! And that a really successful athlete's performance is vastly improved by having the right coach keeping them at the top of their game; it is similar to how I help business owners to be at the top of their game.
If they keep doing the same thing every day, they can't expect their business/life to improve. I inspire their self belief and motivate them to take action. To have a fresh look at their business, and so the coaching process begins, helping them to consciously create their future."
When we asked Pam what 'highs' she experiences as an ActionCOACH franchise partner she almost sparkled like a Christmas tree saying:

"For me, the coaching itself is both a huge privilege and a huge responsibility. My clients trust me and allow me, not only into their businesses but also, into their lives. It's not always an easy process, but the benefits are unquestionable, namely better & stronger businesses with more profits, better team results and also a better work/life balance for them and their families.
I have a passion for sharing my enthusiasm, energy and knowledge with business owners. They may feel they have lost heart, or are not sure what their next step should be. I show them how their business can enhance their life, not be their life."
Pam does not just get personal 'highs' from her coaching experiences she has also gone on to become the fastest business coach in the world to achieve Millionaire Level – that's over £83,333 per month in personal client income consistently; and most importantly to Pam, that comes with the satisfaction of knowing that her clients are they biggest winners.
So what are Pam's plans/aspirations for the future?
Never one to be backward in coming forward, Pam states quite categorically that:

"My passion is to help 1,500 business owners improve their businesses by next year. I am a complete workaholic – I love what I am doing and never feel like I go to work."
What would Pam say to someone thinking of buying an ActionCOACH franchise?
"Be sure that you are self-motivated enough to run your own business and genuinely care about helping others.
It is important to get all the information and go through due diligence before making a decision, as it is an important and long term commitment that you are making."
If you think you share some of Pam's traits and you'd like to join ActionCOACH and do what she does, click below to find out more