Tina Bingham Has Been Running Her Trophy Business Since 2012
"I'm Tina from Trophy East Kent, and have been running my Trophy business since 2012, with the help of my husband Graham who supports me with book-keeping, stock control and occasional deliveries.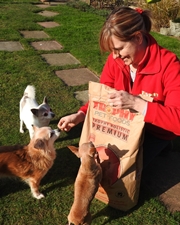 I have always had a passion for animals, and when I was a child I wanted to be a vet. I never managed to achieve that, but I am now an independently qualified animal nutritional adviser, and I'm very happy to be working with animals, helping to keep them in the best possible health through good quality nutrition.
It gives me particular satisfaction to see a new customer that perhaps had behavioural or health problems due to being on an unhealthy diet then transform into a much healthier and happier pet as a result of being on Trophy Pet Foods.
When I first started to consider a career change in 2012, I looked at another pet food franchise too, but I was particularly drawn to Trophy Pet Foods because of their healthy range of products, as well as their ethical standing, because animal welfare and the environment are important issues for me too. I also spoke to a number of other Trophy franchisees around the UK to see if the business had met their expectations, and their feedback also convinced me that I was making the right choice - it's certainly one that I've never regretted.
I have worked really hard over the past 4½ years to build up my business, but it has never really felt like 'work' as such, because I love being around animals, as well as providing a prompt and reliable delivery service and the best nutritional advice that I can to my customers.
I have always had fantastic support from Trophy Head Office too, as well as from the other Trophy franchisees, and so I feel that buying the Trophy franchise has been the best decision I could have made. We are given enough freedom to run our businesses as we wish, but there's also lots of support in place whenever it's needed. And of course the fantastic Trophy food that I have every confidence in. My own pets (2 dogs, 3 cats and chickens) have absolutely thrived on Trophy and are great adverts for the food.
My customer base has been established by chatting to other dog owners directly, attending dog training classes and shows, as well as establishing links with animal behaviourists, dog groomers and local welfare organisations, who appreciate the importance of a healthy diet in terms of health and behaviour.
My customers also frequently recommend Trophy to their friends, family and neighbours, and that's how my business continues to grow as I am too busy keeping on top of deliveries to be spending very much time actively marketing my business now.
Our customer base stands in excess of 350 human customers (which equates to around 500 dogs, 30 cats, plus chickens, rabbits, guinea pigs, parrots and lots of garden birds!) and that keeps me very busy, delivering 4 days per week, as well as visiting potential new customers and giving regular nutritional presentations.
There is still so much potential out there to continue to grow our business if we wish, and we also have the flexibility to tailor it around our rather complicated family circumstances (we have a disabled adult son living at home).
So, in summary, we have a great business, generating a healthy income, and I'm doing a job I love."
Find out how to start your own Trophy Pet Foods franchise by clicking below
What

Our Franchisees Say

Delighted with my first year, we ended year one ahead of target.Pamela Conroy

The best thing I have every done – should have done it years ago!John Thurley

Trophy Pet Foods stood out as our number one option. We were very impressed with the pedigree within Trophy and their past and current performance. Whilst it was clear that the franchisors' business was being run as a serious concern, it was also as clear that ethos of the owners created an environment for new businesses to achieve their own goals. Now 8 months in, we have a business consistently generating a clear operating profit. Hard work is a message new franchisees will continuously hear from head office. We very early made the decision to make Trophy our main source of family income, so hard work, perseverance, determination, were needed in bucket fulls, along with a truly supportive family. The last key ingredient is adherence to Trophy's 'system'. This can be summed up as 25 years of refined best practice that you can rely on to help you achieve your results. Follow the system, it works...Matt Snell – Trophy Swindon and North Wiltshire
Why

Choose Us

British Pet Foods, supporting British agriculture and farmers

Low cost entry, big rewards, great job satisfaction

Individual support and back up, with Trophy you are not a number
Related

Franchise Categories
Related

Franchise Types