OSCAR Franchise - A Family Business
OSCAR is not always an unknown name to its potential franchisees because some of them are already customers whose pets are benefiting from the goodness of healthy food.
Andrew and Jennifer Little
Tean, Cheadle, Stoke on Trent
Start Date: 26th July 2010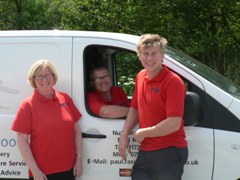 As OSCAR customers Andrew and Jennifer Little were already sold on a good quality product and service - only to find an equally good quality business opportunity when it came to making a life-changing decision.
'We had been recommending OSCAR pet food for at least six years before realising that this was going to be our future. Feeding our own dogs, Max and Fizz, was proof of quality and to have the belief in our products gave us extra confidence to commit to a new career when the time came.
"Working in a busy hospital accident unit caring for people came naturally and to extend that passion to pets was second nature. Andrew's experience was in sales and marketing for the construction industry, having been made redundant, he has put his expertise into business consultancy, which has been a great help to our OSCAR business.
"Our local Nutritional Advisor introduced us to OSCAR. We were overwhelmed by the response and gained extra knowledge from the internet and franchisees – OSCAR was clearly a family business which added to the appeal. Using that as our approach we treat each customer as part of our extended family and sometimes we have to sit back and appreciate that this pleasure is a business.
"One year into our long-term plan of a lifestyle change and with OSCAR products we have been able to offer reliability and integrity within our own community while being able to enjoy our outdoor hobbies as a family with the children and, of course, our dogs."
An OSCAR franchise provides the security of a strong brand and protected image that gives you the benefit of running your own business to suit your time and circumstances. Within your own exclusive territory you can provide a convenient and free direct-to-the door delivery service with a comprehensive range of quality pet foods that is supported by an honest label policy – follow the OSCAR system and you will find success.
The opportunity to offer a personal complete pet care service with ongoing expert advice to pet owners, health care products and accessories is unique to OSCAR, bringing many rewards, including repeat business, and the greatest opportunity to meet the UK's 13 million pet owners – who just love their animals.
OSCAR has, over the years, gained the experience and confidence to recognise the importance of making career-changing decisions. So, if you want the freedom and security of running your own business there is no question that your change for the better should be with OSCAR.
To find out more about an Oscar Pet Foods franchise click below