Children's Drama Franchise
Run your own Children's Drama Franchise in your local community with Theatretrain!
Theatretrain is so much more than just another Children's Drama Franchise. It is a theatre company – training with a difference. As a Theatretrain Business Owner you join a community of children and young people who are learning the joy of performing and gaining valuable life skills as they do it.
Theatretrain not only provides you with performing opportunities, but also student-centred focus, where every child gets the chance to take part and shine, not just the most able and talented ones, they are truly inclusive with a focus on life-skills AND the performing arts skills.
The Theatretrain Children's Drama Franchise:
The standard of teaching offered by Theatretrain is exceptional. Students learn from professionals who are passionate about what they do, follow a well-thought out curriculum and are able to progress students on the journey to reaching their full potential.
Theatretrain is the Theatre School Franchise that truly believes in the power of the performing arts to transform lives. They provide the artistic framework and business support that enables people who share their passion to empower the next generation.
Weekly classes lead to local as well as large-scale national performances in London's West End and the Royal Albert Hall.
Professional performing arts training, however, is not just about preparing for a career in the theatre. Theatretrain classes nurture the skills that build confident, creative and resilient young adults who can achieve success in any aspect of life.
Guided by Artistic Director, Kevin Dowsett, and his Head Office team, Theatretrain business owners enjoy the support of a company celebrating over 30 years of success. With a family-feel and a supportive franchisee network, they work together to nurture a community of successful business owners.
A Theatretrain business can operate on a part-time or full-time basis, ranging from a minimum three hours of weekend classes for 4-18 year-olds to a full schedule of mid-week sessions, holiday programmes and nursery- and school-based activities.

The head office at Theatretrain will help you find and book a suitable venue for the business. Business owners often run classes 3 hours per week, usually Saturday mornings 39 weeks per year September to July. There is the option to extend the offer to midweek sessions at the same or different venues. Theatretrain will work you at all stages to determine what you want to put into and get out of your Theatre School Franchise (e.g. part-time/full-time) and provide guidance on the type of sessions you can run to best achieve this.
You will recruit four team members to deliver professional performing arts training. Training and support also provided here. You may wish to teach one of the (acting/dance/singing) subjects yourself in which case you can recruit a Centre Manager.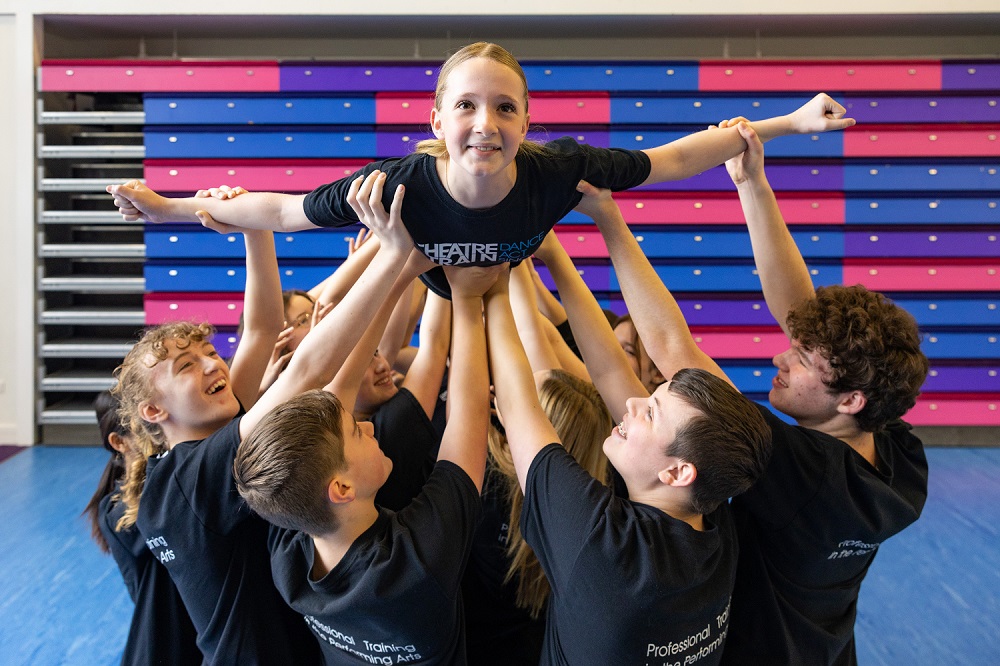 How much can earn?
This depends on how many classes and young performers you can attract to your centre. Theatretrain have models of projected income and can show examples from their current team, a large number of whom have worked with them for many years.
On average with a moderate success £30K-£50K per year rising to £70K-£80K
Could you run a Children's Drama Franchise with Theatretrain?
Theatretrain are looking for ambitious individuals who believe in the transformational effects of a theatre education in young people's lives, professional performing arts experience is desirable but not essential and no previous business knowledge is required.
The Investment:
The initial investment to become a Theatretrain Business Owner ranges from £5,995 to £34,995 + VAT. This covers the purchase of your business territory, training programme (5 days), website and launch campaign as well as the Start-up Kit.
Packages are designed for flexibility, from those who have limited start-up capital to those seeking a quicker return on their initial investment.
Find out more about the Theatretrain Business Opportunity and running a fun and rewarding Children's Drama Franchise in your local community. Click below now!
What

Our Franchisees Say

I have always wanted to own my own performing arts school. Eight years ago I expected it to be a part time thing, as an income supplement, doing something I love. Now I have three schools, additional weekday classes and this has been my full time job for 5 years! My schools are my passion as well as my job.Jess Fairfield, Theatretrain Franchisee, Royston and Welwyn-Hatfield

When I took over the Chester school in 2005, I didn't realise how quickly I would be able to turn a hobby into a business. Theatretrain provides wonderful experiences, not just for our pupils but also for our teachers and centre directors…the support between centre directors and from head office is a key part of our success.Steve Davies, Theatretrain Franchisee, Chester, Mold and Wrexham

Theatretrain is like a family; the head office team are so welcoming and gave amazing support and insight into how to run a new centre and this has continued so there is always a great support network. The wider network of Centre Directors is also so encouraging and generous of best practice sharing.Erin Griffiths, Theatretrain Franchisee, Waltham Forest
Why

Choose Us

Theatretrain dare to be different

National performance opportunities at iconic venues such as the Royal Albert Hall

Personalised support and guidance
Related

Franchise Categories
Related

Franchise Types