Pet Food Home Delivery Franchise
A flexible lifestyle business running your own Husse Pet Food Home Delivery Franchise
Husse provides you with a flexible lifestyle business – work the hours you want, earn the income you want and operate in your local area. You will truly be your boss.
Husse is the world's fastest-growing Pet Food Home Delivery Franchise and the only one with international success. The pet food industry has been categorised by Forbes and other publications as 'recession proof' and is attracting a host of entrepreneurs and investors to join this thriving £7 billion industry in the UK.
Huge Business Potential running a Husse :
There are currently 24 million cats and dogs in the UK with just over 50% of all households in the UK now owning a pet, this means you will have the opportunity to target over half of your territory to provide product and will only need to gain 1-3% of the pets within your area to be making a more than £30-60k a year. Pet owners have shown a huge rise over the last 10 years, this is expected to continue increasing (Good news for us!)

Recession-Proof, Pandemic Proof
Husse prides itself on being an all-year-round business. Pets will need food during the summer, winter, spring and autumn and we will be there to provide it. As a franchise, you will be able to rely on business throughout the calendar year with the different seasons allowing for new fun promotions and advertisements to increase the customer base.
High Profit, Low Overheads
Husse Business Owners will be able to approach the business from multiple angles, gaining numerous revenue streams from targeting businesses such as kennels, breeders, groomers to working markets and events locally and nationally
You will have a 40% margin across Husse's products with very little overhead. They aim to make your territory as local to your home as possible as this saves on fuel and vehicle expenses. You will have the ability to recruit distributors and agents to help expand the business. They can bring in the new revenue and you can arrange payment via commission and sales.
Training and Support
Husse's initial training program covers product knowledge, pet nutrition (centre of excellence canine nutritional qualification), sales, marketing and user training for their bespoke CRM and order tracking system.
Their ongoing support gives you access to a franchisee mentor when starting your business to give you tips and advice.
They provide offline and online educational materials.
Receive unlimited access to our in-house vet for nutritional and product advice
Social media specialist and graphics team to help with all leaflets, flyers, and online presence.
Husse arranges regular meetings, seminars and webinars offering continuous development opportunities to its franchisees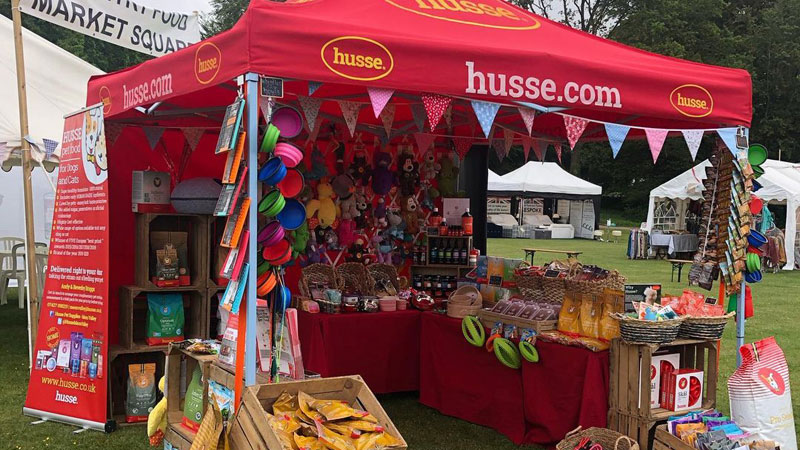 Franchise Packages (All Including Livery)
Platinum
80,000 households – exclusive territory
Price: £14,900 + VAT
Including £5,000 worth of dry food RRP and samples
Gold
60,000 households – exclusive territory
Price: £10,900 + VAT
Including £2,500 worth of dry food RRP and samples
Silver
35,000 households – exclusive territory
Price: £7,900 + VAT
Including £5,000 worth of dry food RRP and samples
Find out more about running your own Husse Pet Food Home Delivery Franchise Business. Click below now!