Hear from Trophy franchisee Marion Clemens who runs her Pet Food Delivery Business in Wessex as she talks about her daily routine.
1. Wake-up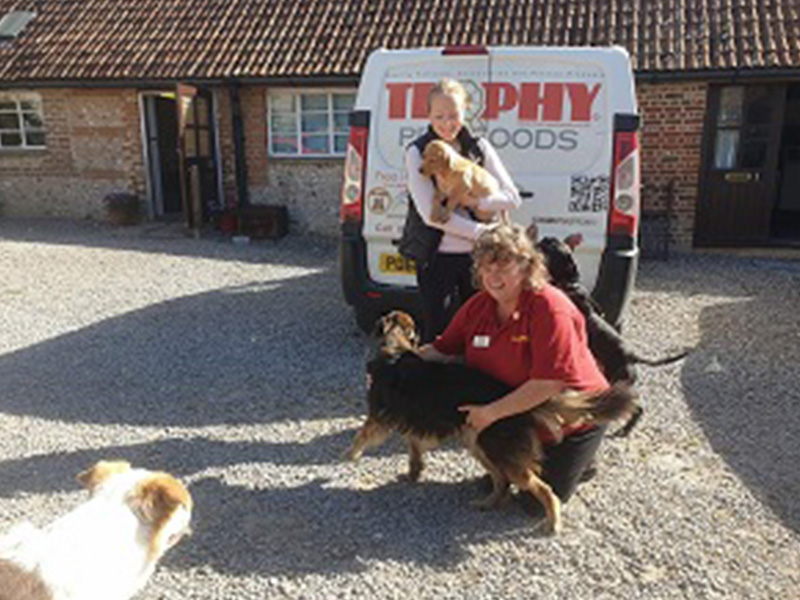 There's no getting away from it, the first thing I think about when I wake in the morning is the business...
What deliveries are planned? Which customers will I see? Are there any enquiries for samples that need fulfilling?
It's probably the same for most people getting up to start the day, but I know I'm getting up for me. I'm getting up to better yesterday's sales.
2. Morning walk
Wearing my Trophy Pet Foods' badge, I walk my dog, Jasper, a lively Cocker Spaniel. He gives me ample opportunity to chat with other dog owners when I'm out and about. I've never been the type to jump straight into the 'What do you feed your dog?' conversation. Friendly chats about the weather, the dog's playing or last night's TV are the general topics! After a few meetings where my badge has been surreptitiously read the question is often asked of me, 'Do you sell Dog food?'
That's when I go into my favourite part of the job. I always enjoy talking about dog nutrition. Making the right choice of food and what we have at Trophy Pet Foods that will suit both the dog's health and the owner's pocket.
Arrangements made for samples to be delivered, we make our way home to get my lunch, delivery list and Jasper into the van. On Tuesday mornings, Jasper and I listen to the Archers omnibus podcast and I'm sure he breathes a deeper sigh of joy as he listens to the familiar theme music!
3. Van prep
'Ah, I know the routing, sleep on this nice warm seat until my next walk.' Jasper is keen to get going!
I consider the loading of my van as a bit of a 'work out' that most people would pay a gym for! On average I load 20 x 15kg bags. In the beginning I was slower. Protecting my back, I put the bags on my shoulder, alternating between left and right. My improving strength was demonstrated to me when I lifted a bag quite naturally and with my usual gusto.
Dog treats weighed, cat and dog food stacked Jasper and I set off for the day.
I jot down next to each name the ETA of each delivery. Some customers need delivery before they leave for work etc and sometimes it's just because I want to plan my coffee break and Jasper's walks in a certain area.
My liveried van is an important tool in this instance… Jasper has his walk while other dog walkers read what's on the van. I might not see them taking note of the contact details, but on my next canvassing in the area people feel more comfortable talking with me as they've spotted my van previously. It's all about brand awareness!
4. Homeward bound
When the last delivery is done, we head home, light the fire and Jasper joins me to relax with that 'job well done' feeling.