The £2m Turnover Franchisee Partnership
NIC Management Franchise owners, Charlotte Eccleston and Kerry Miller are reaping the rewards from what has become an incredibly successful business model. Charlotte & Kerry tell their story.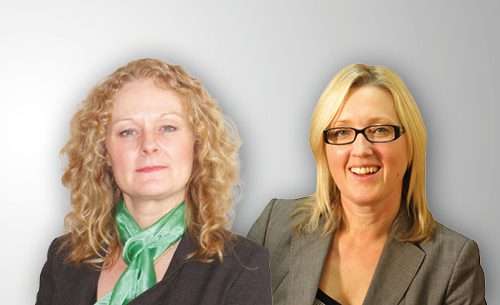 A change in direction
Having spent over 12 years working in the corporate world, in both sales and management roles, Charlotte was made redundant and decided that the time was right to look at a change in direction.

"During my research, I soon became drawn to the opportunities present in a commercial cleaning franchise, identifying a gap in the market at the same time. Everyone within the companies I worked for (and came into contact with) were regularly expressing concerns about their cleaning providers. I used this information to my advantage and realised that if I could offer a high-quality cleaning service that truly understood and satisfied their requirements, I could easily convert and retain a lot of clients." Charlotte stated.

Kerry was initially introduced as a silent partner in the business, but she became an active partner when she too got made redundant from a management role. Since Kerry joined the business the pair have gone from strength to strength. They are both in a position to bring and share substantial sales experience to benefit the growth of the business at a rapid rate.
Commercial cleaning opportunities
"We both liked the fact that there was no cap on the potential earnings with a commercial cleaning franchise and so we were always confident in our decision. Cleaning is an essential service, required every day, across numerous commercial industries and we had looked into other business options without foreseeing the same potential for growth and success." Charlotte continues.

Starting your own business can be a daunting prospect. Having a network of support and a proven business model like NIC can really help you to minimise the risk and maximise your potential, like Charlotte & Kerry have. It's your own business but you have the support, training and the recognised success of a brand like NIC behind you.
Charlotte & Kerry's business has grown so rapidly over the last few years that they needed to invest in additional support with Area Managers and then a Business Support Manager who handles a lot of their administrative tasks.

"We were impressed with the backup and support provided by NIC to their franchise owners. This was very important as we had no previous experience of running our own business. As NIC also take care of all of the 'back office' administration we are free to run our business and continue to grow and develop." Kerry states.

NIC franchisees receive valuable support from dedicated Business Development Managers who provide on-going support and guidance with regular review meetings. In addition, there is an enviable back office administrative support system, providing assistance on everything from payroll to invoicing and IT, which ensures that the franchisees are free to concentrate on running and growing their business.
NIC franchisees need to possess strong people skills as managing a team is a huge part of the business.

"We have developed the right skills to run a successful business and we do everything in our power to transfer those skills to our employees, giving them as much opportunity to grow and develop their own skill-base as possible. By helping to develop our employees, we have freed up our own time to concentrate on meeting face-to-face with new clients and prospects, certainly in terms of sales but equally important, in meeting with existing clients to ensure we continue to exceed their expectations." Charlotte states.

Increasing sales through exceptional service
"We pick up quite a lot of new business from existing client referrals, which is testament to the superior service we deliver. We pride ourselves on excellent customer service that sees quick response and continued support, working closely with clients in a program of continuous improvement. Our client relationships are second to none, in fact, a number of them actually attended my wedding!"
Charlotte & Kerry know the importance of customer service.
"With every new customer, we ensure that we introduce ourselves right from the start so that they know exactly who will be managing their contract. Our promise to them is an exceptional cleaning service and ensuring that we're never too far away should they require additional help."
"We work closely with many of the other franchisees within our network, sharing best practice and offering help and advice. As we do not operate in territories, we have a number of clients across the country who we act as Account Managers for and have other local franchisees operating the contracts for us. This ensures that the client gets just one main point of contact, but their exceptional service is never interrupted." Charlotte continues.

Just like Charlotte & Kerry, to get your business off to a great start, the initial training is exceptionally important. NIC offer an extensive training programme which is delivered in-house and covers all aspects of the business.
It's your future, shouldn't it be in your hands?
So, what does of this mean in monetary terms and importantly, what does it do for your work/life balance?
"We have been franchisees with NIC for 12 years now and have successfully built up our business to achieve a turnover now approaching £2m. Kerry and I are proud of our achievements and have never regretted going into business for ourselves. In fact, our successes over the past 12 years, along with the ability to take control of our own time, processes and growth has gone a long way in contributing to a positive work/life balance that just wouldn't have been possible in our previous job roles."
"We really enjoy running a franchise, especially being your own boss and the independence which that brings. We are definitely much more relaxed people now and we both hope we never have to go back to working for someone else." Kerry adds.

Here at NIC, we say, "It's your future, shouldn't it be in your hands…" and Charlotte and Kerry are proof that asking yourself this question and acting on it translates into real success in business and happiness in life.
If you enjoyed reading Charlotte and Kerry's story, why not get in touch and see whether NIC can help you achieve the same kind of success? Just click below
Nusrat Ali Joined NIC Services in August 2015
Nusrat Ali was looking for a business that would fit in with her family life.
What

Our Franchisees Say

I have grown my business to over £700,000 since joining NIC.Rob Hampton

The commercial cleaning industry is a very lucrative market with high return on investment and continual year-on year growth.Nusrat Ali

We really enjoy running a franchise, especially being your own boss and the independence that brings.Kerry Miller
Why

Choose Us

Comprehensive training & on-going support programme

Over 50 years of industry experience and over 20 years of franchising experience

Huge market potential – industry worth over £8.8 billion
Related

Franchise Categories
Related

Franchise Types