Starting a Franchise Business in the Middle of a Pandemic
Fleet Franchisee, Clare, joined ColourWheel in August last year. A finance professional for over 20 years she enjoyed her work but always wanted to do something that aligned better with her interests but wasn't quite sure what that would be. To force a change Clare opted to take voluntary redundancy from her last employer so she could focus on what to do next.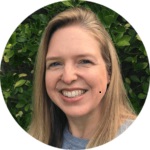 Clare met ColourWheel at the Women in Business convention and after speaking with Founder, Sarah Beaumont went to work on her due diligence, finding out as much as possible about the company and talking to other franchisees in the ColourWheel network.
We asked Clare why she chose ColourWheel above other franchises
"I chose the franchise model in general as I felt more comfortable going from employment to part of a franchise (rather than sole trader) for the support and proven business models. I chose ColourWheel over other franchises as it felt the better fit for my past experiences – i.e. appreciating and enjoying art but not having any professional training – this way I get the best of both worlds (business and art!)"
"I was looking for a flexible, part time opportunity ideally in a creative/artistic business."
What has your experience been like joining the ColourWheel franchise network? Did you receive all the help and assistance that has been advertised?
"Yes, I couldn't have asked for more help and support. I was a bit overwhelmed at the start but once I started understanding what was required and when and how, I was much happier. I used their experience and knowledge to set up my franchise."
Starting a new business that brings people together in a classroom during a pandemic was a bit of a risk. How did it work out for Clare?
"Yes and no to regrets of doing this during a pandemic – the upside is that I have had plenty of time to prepare and students want to sign up to get out of the house!, but the downside is that I have probably spent too much time on everything! In an ideal world I would not have done this in a pandemic as it has been quite stressful and worrying at times, but you have to be flexible in business as I have learned over the years - you can't control everything."
In the end it has worked out as I had very nearly full capacity on my first ever classes and my second term I am completely booked up which I am very pleased about."
The ColourWheel team worked with Clare to limit the financial risk of starting classes last year, taking a different approach to marketing, making sure that bookings were there whilst limiting the marketing outlay.
ColourWheel Founder, Sarah Beaumont says:
"We have been surprised and delighted by the response from our students. Our existing customers have flocked back to classes when we were able to open and new bookings have been very strong. We have waiting lists for many of our classes. We worried that a class (group) scenario would make people nervous to attend but we have taken an extremely cautious approach making sure that our classes are safe for our students, franchisees and teachers and this has paid off with bookings back at pre-pandemic levels."
If you would like to discuss how you can run your own adult art class location, working part time whilst earning a great salary, click below now!
What

Our Franchisees Say

I have to say that joining ColourWheel as a franchisee is the best decision I have ever made. I wish I could have started to work with them earlier!Heidi Zhou, Romsey & Totton

I would highly recommend buying a ColourWheel Franchise it is a lovely way to spend your day while earning a living.Rene Shand, Windsor & Maidenhead

All the tools for the job, all the support and more. Welcome to a Company whose policy brings art to all. A business success!Steve Hedges, Aylesbury and Princes Risborough
Why

Choose Us

You don't need to be an artist but you will get great satisfaction from providing wonderful art classes to adults

One to one support from your dedicated Franchise Manager, making sure you succeed from day one

Term time classes only
Related

Franchise Categories
Related

Franchise Types