OSCAR Pet Foods Carlisle
As the UK's leading pet industry franchise OSCAR Pet Foods provides a complete pet care service delivering pet food, toys, treats and pet supplies with FREE expert advice in nutrition, behaviour and veterinary matters.
Taking on one of the company's greenfield sites in 2020 was a strategically smart move for Stuart Edgar. After a thirty-year career in sales, he quickly recognized the significance of the pet industry being classed as an essential business during the pandemic and OSCAR Pet Foods was an obvious choice.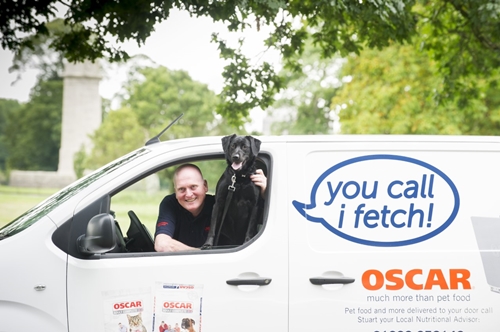 Stuart explains "Choosing an OSCAR franchise was easy because I was struck by the company's honesty. From my very first enquiry I received nothing but truthful and sincere support from its amazing head office team. I immediately knew it was a brand I could get behind and feel comfortable with."
When some of the franchise's more traditional routes to market such as leaflet drops, town stalls and country shows fell away during lockdown, Stuart needed to generate new leads. Revisiting skills from his previous career he turned his hand to what he did best – networking.
In doing so, he was lucky enough to be introduced to someone who ran her own dog agility and Kennel Club registered shows.
Stuart recalls "OSCAR Pet Foods Carlisle was always going to be focused on customer convenience and satisfaction and supporting dog agility turned out to be a great fit: plenty of tasty treats to keep dogs happy and focused during their challenges and plenty of opportunity for owners to reward them for great performances. Treat and toy stocks are regularly decimated so agility events have been a huge bonus for us – not to mention marketing opportunities to sponsor competition prizes!"
With networking and social media engagement accounting for 20% and 30% of sales respectively, Stuart successfully boosted productivity.
Stuart recommends "Networking isn't for everybody, but my advice is to cast your net wide and don't' be put off – after all, everyone attending a networking event has experienced attending one for the first time at some point. Difficult situations happen in all walks of life. The skills you need when taking on a new business simply require you to react with innovation and positivity."
Franchising is most rewarding when quality brands, products and services meet local community needs. Franchising in the pet industry is no exception, and OSCAR Pet Foods Carlisle proved that transferring skills from a previous career can result in fresh leads – and new customers can always be found wherever pets are having fun!
Reflecting on his franchising choice Stuart says "I love being my own boss because any 'stress' is mine. I also love the ability to work with some fantastic customers and their pets – who wouldn't? We were looking to rebalance and have a better quality of life. OSCAR Pet Foods has definitely given us that!"
If you would like to find out more about business opportunities with OSCAR Pet Foods just click below