23 Years Helping Students Develop Themselves - Joy Renshaw's Franchise Journey
For the past 23 years, Joy Renshaw has been determined to help the students of Pitman Training Brighton realise their dreams. From starting out as Brighton's centre manager and corporate IT trainer in 1998 to becoming the business owner in 2005, Joy has never lost her passion for helping people develop themselves.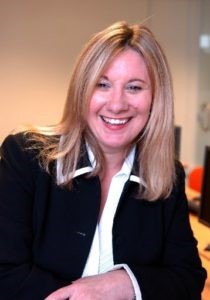 "When I was younger, I used to be an executive PA for two guys who were making their millions. During that time, I learnt a range of great commercial skills like accounting, payroll, shorthand and typing skills. These skills really benefitted me in later life and because of this I've seen first-hand how the courses we provide here at Pitman help people – that's why I do this," explained Joy.
"Once I left my job as a PA, I started a career in adult education as a freelance trainer, teaching IT skills. However, working as a freelancer was very lonely - I just found myself speaking about the same IT course all day. Eventually, I discovered Pitman Training in Brighton and I knew straight away it was the perfect environment for me! I eventually got a job as the centre manager, which involved tutoring the students and delivering the IT skills training. I never have a dull day because my students take a huge range of courses and diplomas here at Pitman. And after 23 years, I still enjoy working here now!"
When joining Pitman, you become part of a proven business model with 180 years of heritage. Consistently recognised as one of the UK's business super brands, Pitman allows franchisees to deliver training via a market-leading combination of audio, workbooks and live software.
"Because Pitman is so well-established, I've been able to help far more people than I ever could've dreamed of when I was working freelance. Head office provide us with sophisticated business management systems and marketing support. They're also always looking to develop the products we use to make sure there are various innovative ways for students to learn. Being a Pitman franchise partner allows me to provide a level of service I just couldn't have done if I'd remained freelance."
Pitman Training is the country's leading independent training provider, offering world-class office and IT skills in modern training centres to thousands of students across the UK and around the world. As a management franchise, franchise partners don't need any teaching experience as you recruit a team to support the delivery of self-paced vocational courses, making a real difference to people's lives in your local area. However, Joy prides herself on being as hands-on as possible for the 200+ students that study at her centre.
"My friends often laugh at me because I'm always talking to students on the phone and offering them advice on courses. There have been times when I'm sat in the pub and my phone will go and it'll be a student who's stuck on a particular module - I'll always help them. Don't get me wrong, the work-life balance you get from being a Pitman franchise partner is excellent. It's entirely my choice to be so flexible because I know how frustrating it can be when you're trying to learn something but just need a bit of help."
Pitman Training continually invests in improving the franchise partner experience, using the latest technological advances. The company has recently launched a new cutting-edge marketing website to generate leads, on which each franchise partner has their own microsite. As well as this, Pitman also offers franchise partners excellent training and ongoing support.
"Since LaunchLife International acquired Pitman as part of its global education franchise portfolio, the support we receive as franchise partners has been even better than before. Pitman's brand leadership team including Paul Lewis, the Managing Director, is a breath of fresh air for the network with new business leads increasing despite a global pandemic. Pitman really is a great network to be involved in.
"My advice to anyone looking to become a franchise partner with Pitman would always be to put your students first. They are the lifeblood of the training centre. Helping students choose the right course doesn't just feel rewarding, it will also provide a consistent income for you throughout the year."
Pitman Training has a 180-year heritage, making them the leading British training provider since 1837. With over 80 local training centres in the UK, Ireland and internationally, they understand how to help individuals best run and market their locations.
For more information about Pitman Training and how you can become part of its prestigious franchise network, just click below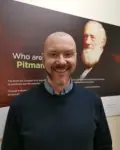 Multi-Unit Franchise Partner Keeps Family Time A Priority
In 2013 Chris Wyle become the franchise partner for Pitman Training in Birmingham.
Pitman's Franchise Partner, Paula Elliott, Is On The Front Line Of Delivering Education Excellence
Going into her fifth term as a franchise partner with Pitman Training, Paula Elliott has certainly proved she has what it takes to make it in the world of franchising.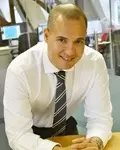 Andre Bedlow runs his Pitman Training business in Reading
Andre Bedlow tells us "Pitman Training offer a strong, recognisable brand with extensive support when you need it."
What

Our Franchisees Say

I've been able to help far more people than I ever could've dreamed of when I was working freelance. Head office provides us with sophisticated business management systems and marketing support. They're also always looking to develop the products we use to make sure there are various innovative ways for students to learn.Joy Renshaw, Pitman Training Brighton

"Joining Pitman was the perfect opportunity for me to help improve people's career prospects, gain promotions or help them get back into work. One thing I've found about being a franchise partner with Pitman is that you're in business for yourself but not by yourself. There's a level of comfort that you get because other people are involved in the same project, it's a real team effort.Chris Wyle, multi-unit franchise partner
Why

Choose Us

Support of a large, global franchise network

Mature franchisor

Globally renowned, well established training company
Related

Franchise Categories
Related

Franchise Types