Tumble Tots Business
Kids Active Learning Franchise
"When we saw an advert about Tumble Tots franchises we jumped at the chance"
Monique Brennan, Tumble Tots - Huddersfield
The Tumble Tots Business is a structured, active physical play programme for children from 6 months to 7 years. It has been designed to help children develop their motor skills of balance, co-ordination and agility during their formative years.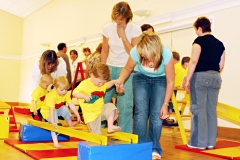 Children also benefit from developing their independence, self-confidence, self-worth, self-discipline and sense of security and identity. Tumble Tots offers children joy, challenge and satisfaction.
The Tumble Tots Franchise:

The Tumble Tots Business offers a rewarding opportunity, not just financial. They are the UK's leading Kids Active Learning Franchise.

As a franchise owner you will offer weekly 45 minute sessions to groups providing challenging and structured physical activities. Children can fully explore and develop their physical capabilities and social skills. In addition action songs and rhymes contribute to language development.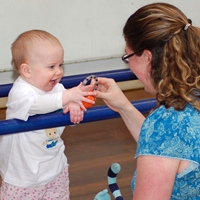 All Tumble Tots children have an equal opportunity to realise their potential, and tasks are varied according to the different ages and stages of a child's development. Sessions are stimulating and exciting as formats are changed regularly.
Tumble Tots is a mobile business in which franchise owners provide the Tumble Tots programme, at various centres within their agreed territory each week. They hire various types of venue such as sports centres, leisure centres, church halls, village halls, etc, and are responsible for locating suitable venues. Tumble Tots can assist in identifying areas within a territory where centres should be sited.
Children join the national Tumble Tots Club and attend weekly sessions, which are appropriate to their age. The main source of income for franchise owners is derived from the weekly session fees. Other sources of income include parties and Tumble Tots merchandise.
The equipment, which is light, versatile and interchangeable, is designed specifically for children to develop their motor skills. As the business is mobile a vehicle such as a trailer or transit type van is required.
Training: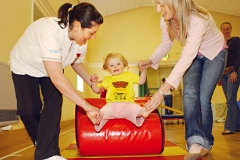 Franchise owners along with at least one member of staff must undertake a Tumble Tots Leaders course and a Gymbabes Leaders course. Together the course syllabuses cover the philosophy of Tumble Tots, class conditions, staff requirements, lesson plans, skill tasks challenges, class periods and instruction techniques.
Franchise owners and key staff members are also required to attain hands-on experience at a Tumble Tots Centre. In addition just prior to opening, the franchise owner and all staff to be employed attend two days of Foundation Training.

Franchise owners also undergo two days of training covering all aspects of running the Tumble Tots business, and are provided with a Business Operations Manual.
Support:
On the opening day two members of staff from Tumble Tots Head Office are on-hand to lend support.
Throughout the year, workshops, courses and seminars are organised to keep franchise owners and their staff updated on new developments in the programme and business.
Franchise owners also have the day to day support of the Tumble Tots Team at Head Office, who with the help of a comprehensive IT system, which incorporates an intranet and website and provides a central enquiry and booking point for Tumble Tots members.
The Franchise Package:
The Franchising Divisions of the major Banks are familiar with, and supportive of Tumble Tots. Generally speaking they will loan up to 66% of the initial investment.
As a franchise owner you will receive:
A 3-year licence to operate the Tumble Tots programme
A membership package for all children who attend Tumble Tots
A territory
A national and local area website
Full support of experienced and qualified Tumble Tots personnel
Territory demographic analysis
The backing and security of a well-established organisation and a registered trademark
A stock of full colour promotional leaflets
Specially designed Tumble Tots equipment - the equipment can be purchased outright, or provided on a lease purchase arrangement over a 4-year period
Intensive franchisee and staff training, and a Tumble Tots and Gymbabes Leader's Manual
A Business Operations Manual, covering all aspects of running Tumble Tots, including guidelines on advertising, promotions and public relations structure
Regular courses, workshops and seminars
National advertising, promotions and public relations activities
Supplementary income through Tumble Tots merchandise
Is Your Territory Available?
Tumble Tots are looking for franchisees to cover the following area postcodes:
Aberdeen
(AB)
Coventry/
Warwick (CV)
Harrow
(HA)
Oldham/Rochdale (OL)
South-West
London (SW)
Bournemouth (BH}
Derby
(DE)
Hemel Hempstead/
Aylesbury (HP)
Portsmouth
(PO)

Worcester (WR)

Bristol
(BS)
Exeter
(EX)
Ipswich
(IP)
Redhill/
Reigate (RH)
Cardiff
(CF)
Glasgow
(G)
Milton Keynes/
Bedford (MK)
Sheffield
(S)
Colchester
(CO)
Guildford/Woking (GU)
North-West
London (NW)
Southampton
(SO)

Find out more about the Tumble Tots Business, the rewarding Kids Active Learning Franchise. Click below now!
What

Our Franchisees Say

Tumble Tots fits in with my young family life giving me the perfect work/family balance. In the past year I have learnt a lot and have loved every minute, since September and running the centres full time I have loved every second and really enjoy my days at work and with numbers growing I feel that something is working well.

I have never doubted my decision to take on a Tumble Tots franchise. I have the best of both worlds - my own business, with the back-up of a large organisation.

Lee and I bought Tumble Tots because we wanted a new venture and as I'd previously worked with children at a Health Club, I wanted to do more. The challenge is great but very rewarding! My days go SO fast now and we see the best of every child. I get parents that come in complaining about their jobs, and think to myself 'this is work', it's really not like a job.
Why

Choose Us

Work with a brand to help with the development of children with physical and social skills

Experienced, knowledgeable and well qualified support team

Market leading brand established over 36 years
Related

Franchise Categories
Related

Franchise Types