Steps To A Brighter Future - Money Raised By Babyballet® To Save Babies' Lives
21st February 2023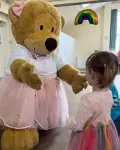 Toddler dancers from across the UK have raised more than £1 million for pregnancy charity Tommy's, in an incredible fundraising effort to support research into the causes of, and treatment to prevent, baby loss.
Over 3 Danceathons in 2016, '18 and '22, babyballet® dance schools in Scotland, England and Wales have raised a staggering £1,120,057 for Tommy's.
Danceathon sees babyballet® stars sponsored by friends and family to wear their brightest, most colourful clothes, and embark on a magical dancing quest to find the missing colours in their regular babyballet® class. Every little one who gets involved is rewarded with certificates and prizes.
The money they raise goes a huge way in helping fund Tommy's research into pregnancy complications, as well as the charity's support and advice resources for parents, including a midwife-led phone and email helpline.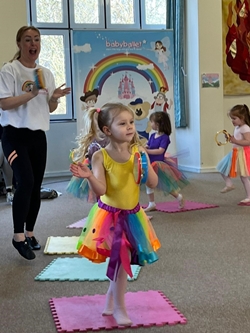 At the most recent Danceathon which started in October 2022, babyballet® stars aged 6 months to 6 years raised a total of £319,319. The theme for this year's event was 'dancing for a brighter future to help save babies' lives'. 1,500 classes took place across this year's Danceathon week.
Tommy's - the UK's largest charity funding pregnancy research and providing support and care for parents – believes that losing a baby should never be 'just one of those things' and is working tirelessly to reduce the UK's unacceptable rates of miscarriage, stillbirth and premature birth.
The total raised across all 3 Danceathons is enough to fund a research centre such as the Tommy's National Centre for Miscarriage Research for 3 whole years.
Nicky Butcher, Head of Community Events and Engagement at Tommy's, says: "Everyone at babyballet® is so committed to helping us in our mission to save babies' lives and improve care and support for families at every stage of the pregnancy journey. We're so grateful for the vital funds raised for Tommy's."
Earlier this month babyballet®'s Managing Director Lucy Crabtree, babyballet® Founder Claire O'Connor, and representatives from Tommy's visited the Bournemouth class to mark the end of the most recent run of Danceathons and to celebrate passing the £1m milestone.
Claire Woodford, aka Miss Claire, who leads Bournemouth and Poole babyballet® says: "I am so proud and humbled to be in partnership with Tommy's charity. Knowing that the money we raise is helping so many families around the country makes me hugely proud of what we have achieved. It never ceases to amaze me just how incredible all our babyballet® stars are. Together we are ALL dancing for a brighter future."
babyballet® star Lily-Rose was a top fundraiser in the most recent Tommy's Danceathon. Her mum Nicola was diagnosed with a liver condition during pregnancy which put her at high risk of stillbirth or premature birth.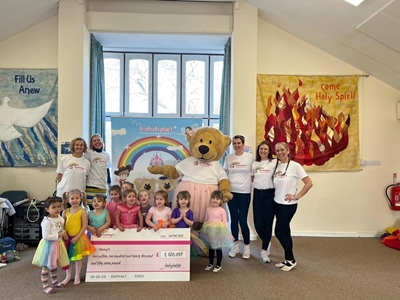 Nicola explains why supporting Tommy's means so much to her family: "After my own experience, pregnancy healthcare is something I feel incredibly strongly about. Especially for those women who are more vulnerable as even for the most well educated and privileged, it is still extremely difficult to advocate for yourself as a pregnant woman. There is no excuse for preventable baby loss in a country like the UK and I think the work Tommy's do is absolutely amazing.
"We are very proud of Lily-Rose and all of her dance friends and the rest of the babyballet® group for the massive sum they raised. We know it will be put to good use."
Michelle Thomas runs the Bury and Bolton bababyballet® franchise. Michelle was devastated when her first baby Jakob was stillborn at 41 weeks. As a toddler her son Isaak took part in the first danceathon in 2016.
Michelle says: "It is a privilege to be partnered with Tommy's because every time we raise funds for families who need support after the loss of a baby, I get to feel their hope and celebrate their rainbows right along with them."
About babyballet®
babyballet® was founded in Halifax in 2005 by mum-of-4 Claire O'Connor, babyballet® is an award-winning educational pre-school dance concept for children aged from six months to six years. The successful babyballet® programme is available through over 100 franchised sites in operation in the UK, Australia, New Zealand and Singapore with over 25,000 babyballet® stars are now enjoying classes every week. babyballet® is a leading brand in its sector and in addition to the classes, the company has developed children's parties, characters, events, uniform and merchandise. In 2021, the company launched its first children's book based on their children's characters.
About Tommy's
1 in 4 pregnancies end in loss during pregnancy or birth. Tommy's believes that every baby lost is one too many. Tommy's is a national charity that works tirelessly to reduce the UK's unacceptable rates of miscarriage, stillbirth and premature birth. Tommy's funds pioneering medical research to discover the causes of baby loss and helps women and people who give birth at every stage of their pregnancy journeys, supporting them and their partners with expert information and care. Tommy's wants to make pregnancy safer for all and ensure that excellent maternity care is available for every family, every baby, everywhere. www.tommys.org
Click below to find out more about the babyballet® franchise and to see why they are more than just a dance class!
What

Our Franchisees Say

It's my 8th year as a babyballet franchisee and I still absolutely love it! The magic of teaching preschoolers their first steps combined with the flexibility of being my own boss, all the while knowing that I have the backing and support of such a fantastic brand, is just the best feeling ever.Miss Leanne babyballet® Franchisee, Livingston and Falkirk

It is a whole year since I started my babyballet franchise and it has been the fastest year of my life! I've absolutely loved it and can't wait to see what each year brings. This was easily the best decision I've ever made. Thank you so much to the head office team for welcoming me to the family with open arms, and to Claire for being such a fab big boss and inspiration.Miss Suzy babyballet® Franchisee, Worsley and Walkden

The training to join the babyballet franchise family was fantastic. During the initial training course, every aspect of running a business was covered – from office and admin management through to running the dance classes themselves. From day one I felt like part of the babyballet team and nothing was too much trouble – no matter how many questions or queries I had!Miss Jessie babyballet® Franchisee, Dartford, Bexley and Bromley
Related

Franchise Categories
Related

Franchise Types