SureCare Welcomes Naomi Farrer To Head Office Team
Throughout 2017, SureCare has experienced a bumper year in terms of franchising.
Many new entrepreneurs have joined their expanding network to provide quality care services up and down the country. For all franchisees, new and existing, SureCare know there's always going to be a desire for improvements in making the day-to-day business go even smoother.
To help their nationwide teams excel in their daily operations, SureCare are pleased to welcome the latest addition to the ranks at SureCare HQ, Naomi Farrer.
Naomi joins the SureCare team as the new National Training Manager. In her ongoing role, she'll be responsible for supporting franchisees with training in various aspects of their business.
SureCare know it can be quite difficult to keep a business running as efficiently as possible. That's why they are committed to providing the right assistance with the best possible tools, including industry specific software to help you easily and effectively manage the ins and outs of your daily affairs.
With Naomi overseeing franchisee training, she'll be integral to keeping the national teams on track, so that they can maintain exceptional levels of service.
Meet Naomi

Naomi's background is quite a varied one, but one that demonstrates her wide-ranging skill set. She studied at the University of St. Andrews where she obtained a Master's degree in Chemistry.
Following that, she has gained considerable experience as an Implementation Consultant for a specialist software company in Cheshire.
During this previous work, she has grown proficient in training various people to utilise specific software. Bringing her wisdom to SureCare and their network, Naomi will prove to be a strong member of the team.
No stranger to SureCare, she joins the family-led business alongside father Gary and brother Josh – SureCare's Managing Director and Franchise Recruitment Manager respectively. This further cements SureCare's focus on family values, as they strive to support clients as well as their families and loved ones wherever possible.
Find out more about the SureCare franchise and how you can become their next successful franchisee. Click the button below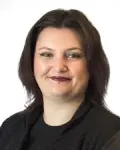 Zoe Hughes is the newest SureCare franchisee
The newest SureCare franchise is in Merton & Wandsworth and is run by Care Manager Zoe Hughes.
Why

Choose Us

Ongoing support and a rewarding business in an expanding market

Unrivaled training and ongoing support to help achieve successful businesses

Each territory is extensively analysed to identify key client groups with a minimum of 75,000 households
Related

Franchise Categories
Related

Franchise Types