Razzamataz Theatre Schools Franchise
Career change leads teacher to become Razzamataz theatre school owner
23rd July 2015
Changing careers can be one of life's most difficult but most rewarding decisions. Debbi Ledwith, age 47 from Newbury, Berkshire decided that she wanted to move away from teaching but stay working with young people.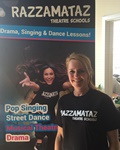 Debbi has a Performing Arts degree and then qualified as a Music and Performing Arts secondary school teacher. She taught in Oxfordshire and Hampshire, becoming Head of Performing Arts in 2001.
Debbi explains:
"I was looking for a career change but I have never run my own business before. I had never really considered it until I found out more about Razzamataz.
I always wanted to remain working in the performing arts, and to continue working with children. The franchise provides me with support and assistance, and a structure that works."
Debbi is now the Principal of Razzamataz Newbury, having financed the school through some shares that she bought years ago.
Debbi is most looking forward to making a real impact and difference in the lives of her students: "The most rewarding part of teaching is seeing young people grow and develop and I am looking forward to getting a similar experience from my Razzamataz school. I am also looking forward to finding a fantastic team of teachers and working closely with them."
Running Razzamataz Newbury will be combined with looking after Debbi's three young children. Debbi says:
"Finding enough hours in the day to get everything done and making sure that everything is done at the right time and not missing any opportunities are challenges that I expect to face, especially in my first few years of business."
But the advice that Head Office provides will be invaluable to Debbi and she is making sure that she uses all the support that is available:
"Think carefully about whether the decision is right for you if you are considering running your own business. Be passionate and committed and never give up. And finally, if all this is in place, take a risk and jump."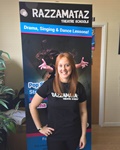 Charlotte Cotter, age 25, has gone from work experience at Razzamataz to becoming the new Principal at Razzamataz Maidstone.
During university Charlotte gained work experience with Principal Hayley Limpkin at Razzamataz Medway and now has taken over the Maidstone branch from Hayley. She combines being the new Principal with being a school teacher.
Charlotte explains:
"I have never run my own business before, having my own theatre school was always a bit of a dream, something I thought would never become a reality. I ran Hayley's Medway school during her maternity leave and on her return she offered me a permanent role of Assistant Principal. Working with Hayley and her amazing team gave me the confidence to believe that having my own school could be a reality not just a dream.
I find working with children extremely rewarding. In my final year at university I decided to write my dissertation on working with children and the benefits of performing arts. The research and evidence from my dissertation was fascinating and made me even more passionate about teaching and sharing my love for the arts."
Charlotte financed her franchise through savings and believes taking tight control over the cash flow and planning ahead is critical for a successful business.
Charlotte says:
"I've also had to learn to love spreadsheets. Running a franchise is great because if you have a problem all you need to do is pick up the phone and you can guarantee that someone in the network has had the same problem previously and can advise you."
To celebrate 15 years of business, Razzamataz is offering a special promotion with a £2,015 reduction for 2015, making the franchise fee £7,980 plus VAT.
If you want to make 2015 the year you launch your own business with lots of support just click below to request your FREE franchise information pack

Razzamataz Theatre Schools Franchise Case Studies